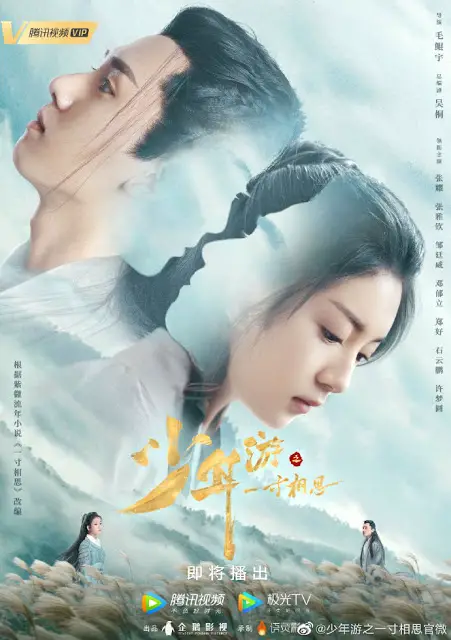 As we go into the warmest months of the year, nothing quite beats long lazy days sat in a lounge chair with a book and a giant glass of iced tea in hand, capped off with evenings bingeing on your favourite dramas and movies. This is probably why we're always spoilt for choice when it comes to books, shows and movies to while away those warm summer days. 
While a darker than usual wuxia might not be everyone's first choice for a light summer series,  if you're up to catch something different for summer 2020 – heck so far there's nothing quite "usual" about 2020, consider checking out Love in Between 少年游之一寸相思. The drama is based off of author Zi Wei Liu Nian's novel One Inch of Yearning and has just dropped new posters and a trailer featuring the fresh faces of Gala Zhang Yao and Zhang Yaqin as its stars.
In Love in Between, Zhang

Yao plays the young noble Zuo Qing Ci who disguises himself as a medical doctor in order to locate a treasured landscape painting that had gone missing. Knee deep in his quest, he crosses paths with the mysterious Fei Kouer (Zhang Yaqin), a thief who's later revealed to be Su Yun Luo. When Su Yun Luo is attacked, Zuo Qing Ci unhesitatingly jumps into the fray to save her. But the situation at home wasn't good. With Sun Yun Luo's help, Zuo Qing Ci vows to extract vengeance and to finally rid his country of traitors and corrupt court officials.
Last seen in the drama The Best of You in My Mind, actor Zhang Yao is finally back in the small screens with his very first historical drama. Considering that he's still very much a rookie actor, his efforts in BoYiMM to make the growth of Xu Fang's character from a man struggling with his insecurities to one who is confident in his abilities more relatable for audiences was a joy to watch. 
And yes, while his filmography listing might still be short, if his past performance is any indication, we can certainly expect greater things from him if he manages to keep it up! 
Meanwhile, his costar Z
hang Yaqin appeared in 2018's Legend of Fuyao as Ya Lan Zhu and like Zhang Yao, she too is slowly building up her portfolio in the industry. In fact, if you want to catch her, her quirkily entitled drama Mr. Fox and Miss Rose is currently on air.
Ashes
of Love
's  Zou Tingwei also appears in a supporting role well as Deng Yuli, actors Zheng Hao and Shi Yunpeng who were the young Mu Yunsheng and Muru Hanjiang in Tribes and Empires: Storm of Prophecy, Xu Mengyuan and veteran actors Huang Haibing and Lu Xingyu. 
It may not be a big name cast, but the mix of young and veteran actors coupled with a look and feel that feels very much like a proper wuxia is certainly promising! Love in Between premieres June 8
on Tencent and Youku.