Need a break from watching dramas? Want to travel during these impossible times? Fret not when we have a new fun travel variety show called TWogether to look forward to! Netflix made it possible to have Korean actor and reality show expert Lee Seung Gi (Busted! Season 2) and Taiwanese actor and reality show newbie Jasper Liu (Triad Princess) become instant brothers for life.
In a quest to find their fans around the world, this uniquely entertaining pairing will climb mountains and go swimming in the rivers (literally) in six different Asian cities – with their first stop in Bali and Yogyakarta in Indonesia, Bangkok and Chiang Mai in Thailand, and making their final destination in Kathmandu and Pokhara in Nepal. Being paired for the very first time, these adventurers will take us to these breathtaking locations while making us laugh and cry with their mishaps and successes.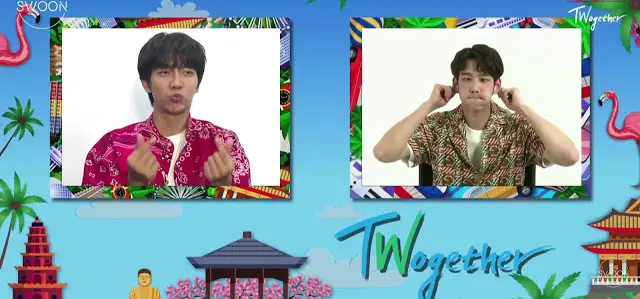 Today (June 23) was a busy day for both main stars of the reality show as they held a press conference this morning and a fan meeting in the evening. Despite the limitations of holding both events online, we were still lucky to get a glimpse of their friendship that knows no cultural and/or language barriers. They shared that they were worried about having miscommunications at first, but realized that body language was more important and they ended up being closer than what they had expected. 
When Lee Seung Gi was asked by a fan if he had any particular international actor that he wanted to work with after TWogether, he still answered Jasper Liu right away! Talk about a friendship that's worth treasuring thanks to this show. Jasper Liu also shared that he was just in awe of "Lee Seung Gi-sshhiii" (what Jasper fondly calls him) and his ability to interact with others. He shared that it took him a while to warm up in approaching people, but it was his reality show teacher Seung Gi that made him gain more confidence in doing so. 
After watching their live stream events, I may have watched the trailers way more than I should have.  
If you're like me who's excited to see Jasper Liu in his first attempt to do a reality show paired a seasoned reality show veteran like Lee Seung Gi, then let's catch our new travel buddies TWogether on Netflix, June 26! 



Source: 1