Relive the feels from last spring's campus hit
Put Your Head on My Shoulders
as its stars
Xing Fei
and
Tang Xiaotian
reunite to bring you a much more grown up drama adapted from the novel of popular young writer
Dong Ben Xi Gu 
东奔西顾
. 
You 

know the stereotype where Asian parents want their kids to become doctors (usually)? Well My Little Happiness 我的小确幸 is a slight play on that with Cong Rong's mum wanting her daughter to study economics overseas. Unfortunately for her, Cong Rong is dead set on becoming a lawyer. Returning home secretly to get her law degree, the law intern meets her match in her old childhood friend turned difficult client, surgeon Wen Shaoqing. In the ensuing battle of wits that follow and the added complication of the fact that Shaoqing is her next door neighbor slash landlord .. will these two individuals finally realize that they were made for each other?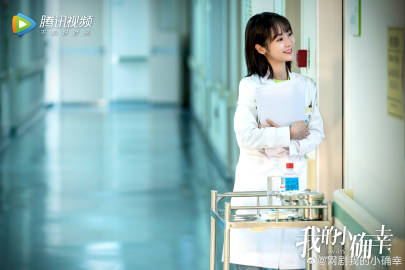 Yes 
yes, I know Xing Fei is paired off differently this time with PYHoMS's second lead actor Tang Xiaotian, but methinks it's still great to see these two working together again. And while some of you might miss the natural chemistry Xing Fei had with actor
Lin Yi
in PYHoMS, I can't wait to see what a feistier Xing Fei will bring to the table when she butts heads with Tang Xiaotian's character. 
My 

Small Indeed Fortunate is

40 episode long and also

stars 

Huang Yilin, Leon Li Chuan, Fu Weilun, Deng Yuli, Wang Mohan, Chang Long, Yang Anqi.

Catch your first glimpse of the cast in the

just released stills from the drama's production team.