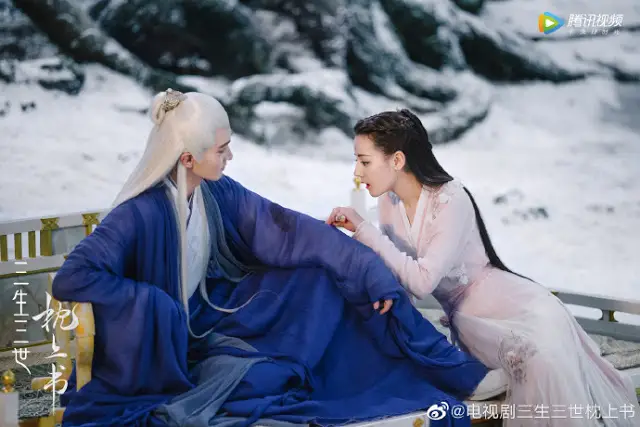 Eternal Love of Dream may have gotten mixed reviews when it first aired because of differences from Eternal Love. However, probably owing to its two endearing leads
Dilraba Dilmurat
and Vengo Gao Weiguang as well as their portrayal of a touching romance that transcends lifetimes, it has found its audience, ranking as the top web drama online and receiving good reviews lately.
In an interview with Sina Entertainment, when asked 
how they feel about their performance in Eternal Love of Dream, Dilraba shares, "I feel like we improved a lot from two years ago. We have worked together many times before, which really helped us build on that rapport as we have a faster adjustment period for the character."
Vengo Gao shares almost the same sentiments saying, "Even though Reba and I have worked with each other many times before, there's still always a new feeling every time. When filming, everyone has developed a sense of chemistry that gets better and better over time. There are even scenes where we don't have to tip each other on what we are about to do, we just act naturally when filming and can be very in sync with other."
Vengo Gao mentions a scene where Song Xuanren (Vengo Gao) and Fengjiu (Dilraba) are in a room and Xuanren says, "If we are civilians right now, we would be considered husband and wife." He says that he and Dilraba improvised the latter part of the scene on their own and the outcome was quite nice. 
Counting Eternal Love of Dream, Dilraba and Vengo who are both artists of Jaywalk Studio have been in 7 productions together starting from 
V Love, Sword of Legends, Legend of Banshu, The Ladder of Love, Eternal Love and the movie Mr. Pride vs Ms. Prejudice. Their scenes together are not always much as the two would also be paired with other love interests or have characters that don't cross paths at all. 
Eternal Love of Dream is the first drama starring the two where they worked extensively together from beginning to end. 
The series is almost over (for VIP viewers, it's already ended), but fans everywhere are still not over the '
DongFeng' couple!