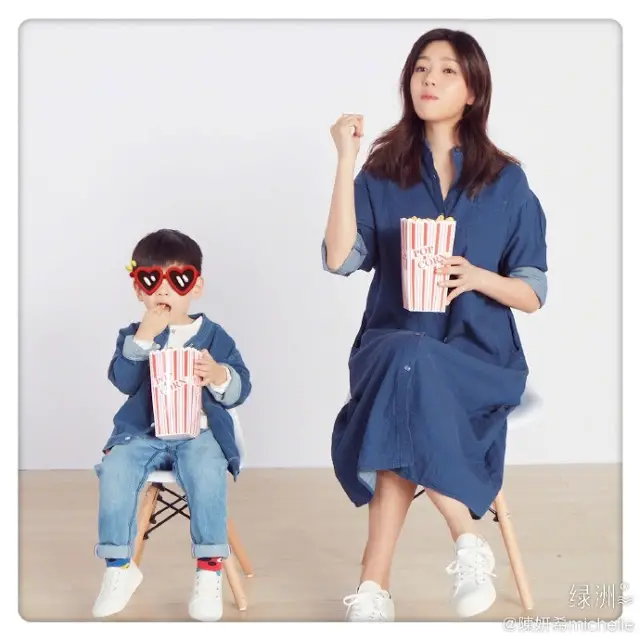 Actress
Michelle Chen
recently confirmed in an interview with Taiwanese media that a second baby for herself and husband
Chen Xiao
is a distinct possibility. "Having a second child has always been a part of our plan. The possibility of having a baby brother or baby sister for "
Xingxing
" (their nickname for their child Muchen which translates to star) would be amazing. If we have good news on that score, I'll make sure to share it with everyone" says the actress. 
Michelle and her husband married in 2016 after meeting on the set of 2014's The Romance of the Condor Heroes where they played Xiaolongnu and Yang Guo. They now have a super adorable 3 year old son who looks to be growing quickly day by day. Judging from Muchen's regular appearance on mummy's social media, it certainly appears that the two have a close bond. What is it that people say about boys and their moms, and dads and their daughters? It's only fair that daddy Chen Xiao will get to have a little daughter to spoil someday when they do decide to go for baby #2. *lol*
Since many households are on lockdown ever since the beginning of the lunar new year, Michelle says that she's stayed at home and watched a lot of movies and TV shows to while away the time so much that she's gotten addicted to Crash Landing On You. She also took up a new hobby of cooking – not just any ordinary meal, but healthy oil free alternatives and low sodium dishes as well as gluten free bread. Whoa. 
Even "Xingxing" has jumped on the learning new things bandwagon! With mummy at home to teach him some English words, he's catching on really fast. In fact they can now sing simple nursery rhymes in English and can do jigsaw puzzles too! Isn't that precious. Look how cute they both are in the photo below –