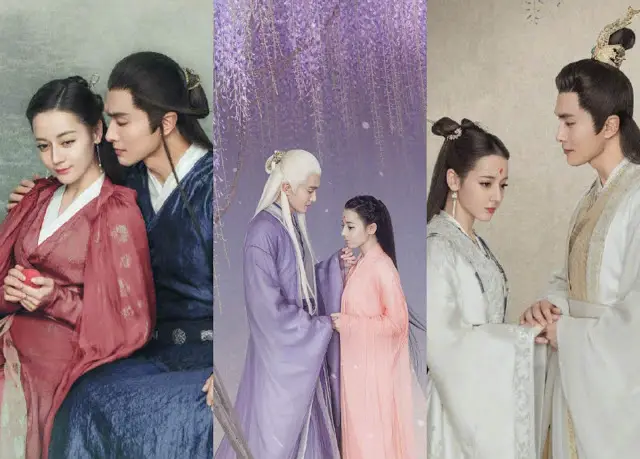 Good news everybody! First things first, the long awaited and most guesstimated airing of 
Eternal Love of Dream
also known as
Three Lives Three Worlds, The Pillow Book 
三生三世枕上
书 
has already been announced for a January 22 premier. Yup, you read it right – the 22nd so leave a reminder to clear up your calendar for Wednesday if you want to catch this!
With that out 

of the way, let's talk about the story – like Bai Qian and Ye Hua's, it's complicated. The 58 episode series will focus on the 2000 year old romantic entanglement between Qingqiu Princess Bai Fengjiu (played by Dilraba Dilmurat) and the Emperor of Heaven, Dong Hua Di Jun (played by Vengo Gao Weiguang), and their love that endures despite the numerous trials and tribulations lasting three lifetimes.
Feng Jiu and Dong Hua's story begins when Dong Hua rescues her from a monster that attacked her whilst practicing her cultivation in the mountains. In gratitude, Feng Jiu insists on repaying her debt to Dong Hua by following him into battle where she soon realises that her initial feelings of gratitude have transformed into feelings of love. 
But Dong Hua in his thousands of years struggle against evil has already forgotten what love means. In his bid to protect Feng Jiu, he sends her to the human realm, which unfortunately caused her friends to die in order to protect her. To find the legendary Saha fruit that has the power to bring her friend back to life,
Feng Jiu enters the fantasy dreamland of Princess Aranya from the Winged Tribe, reliving the princess' hard life for eternity. That is, until Dong Hua manages to take Feng Jiu back. But a happy ending is far from happening for the two despite their multiple lifetimes, as another complication threatens to tear the fated lovers apart.
The three posters represent
their various incarnations –
As Fengjiu and Dongua (1), as Concubine Chen and Emperor Song (2), and as Aranya and Chen Ye (3).
The drama 
also stars
Baron Chen
as Zhe Yan,
Dylan Kuo
as Aranya's teacher Su Moye, 
Liu Yuefei
as Ji Heng,
Wayne Liu Ruilin
as Yan Chiwu,
Wang Xiao
as Si Ming,
Li Dongheng
as Dong Hua's good friend Lian Song, Yuan Xuyuan as Cheng Yu, Huang Junjie as Bai Zhen,
Zhang Mingcan
as little Ah Li and
Kou Yunhao
as Bai Gungun.
And, to psych you up for the Wednesday start, here's a little NEW
teaser
for a taste of what's to come.
Release Date:
January 22, 2020 Tencent (two episodes at 8pm) 
1
st week: Wednesday, Thursday and Saturday, 
2nd week: Thursday, Friday and Saturday, VIP watch 6 episodes in advance. 
Starting February 20, VIP can pay for advanced episodes every Thursday and catch the finale as early as March 5.