The 
drama
Eternal Love of Dream
三生三世枕上书 may be basking in the glow of the series' rising popularity from old and new fans alike, but things aren't looking
quite peachy in the Three Lives Three Worlds world.
Liu Yuefei
, the actress known to all as Ji Heng in the drama just wrote a long post on her social media yesterday hinting at her unhappiness and thoughts of suicide. In the post, the actress wrote about "a little girl" who has dreamt of buying her own skirt as a child.
"One 
day she finally saved enough money to buy a dress that she loved. Looking at it in her arms made her so happy. But the good times didn't last long. The designer of this skirt became in demand and the skirt suddenly became a coveted item. Knowing that this skirt was in the hands of the little girl, everyone scolded her for being ugly and inferior, saying that she couldn't afford it! They threw eggs at her, cursed her family to death, and forced her to surrender it to the princess with all kinds of vicious words! The little girl couldn't stand it and cried until she collapsed. The love light in her eyes gradually dimmed, and the little girl lost the courage to wear her own skirt. Since the skirt was like her child, it would be better if she gave it away than for it to suffer with her!
But she couldn't bear to give up her skirt. Watching her dreams become the wedding dress of others… everyone rejoiced! But no one saw the loneliness in her eyes … She thought the nightmare was over and totally did not expect another round of vitriol to come. "Oh, you made so much money, why aren't you thanking the princess, no one looks at you when you wear it, you are a disgusting ugly monster…" No one knew what she gave up was of immeasurable value in her heart, it's because she loved it, like her own childhood dream!
She gradually lost weight, and finally chose to end her life … How unfortunate. I don't know whether to call it lucky or sad. She was rescued and woke up with her heartbroken family looking at her. She felt defeated and often wondered if she could continue to be strong and live on . In order to forget, she changed her name and left her childhood home. She thought she could get on with her life and live quietly but the whole brouhaha was back again. The airing of "the skirt" saw her getting scolded by everyone, saying that she changed the skirt to suit herself. Just because she is the original owner, everyone assumes she can make changes like a tailor, regardless of the fact that this skirt already has a new owner when it was released!"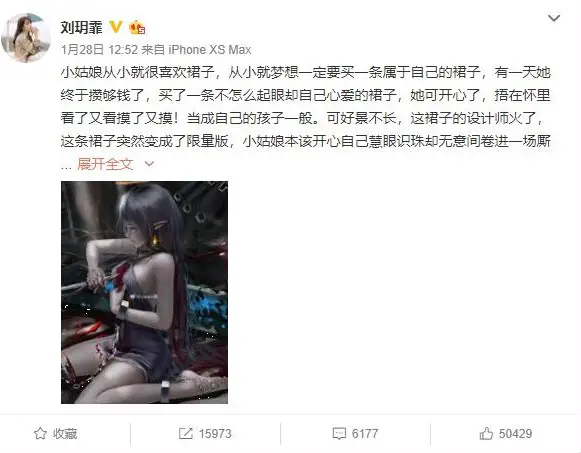 Netizens have inferred that the "little girl" the actress was talking about is herself, and The Pillow Book is the metaphorical skirt she's alluding to in the post. Liu Yuefei actually acquired the rights to adapt the Pillow Book series long before
Three Lives Three Worlds Ten Miles of Peach Blossoms
aka
Eternal Love
became such a HUGE hit internationally in 2017. She probably had the intention to star as Fengjiu too but because fans have been pushing for 
Dilraba Dilmurat
's Fengjiu and
Vengo Gao
's Dong Hua pairing in Eternal Love all while the actress was being criticised as "unsuitable" to play Fengjiu, Liu Yuefei conceded to play the second fiddle in the series.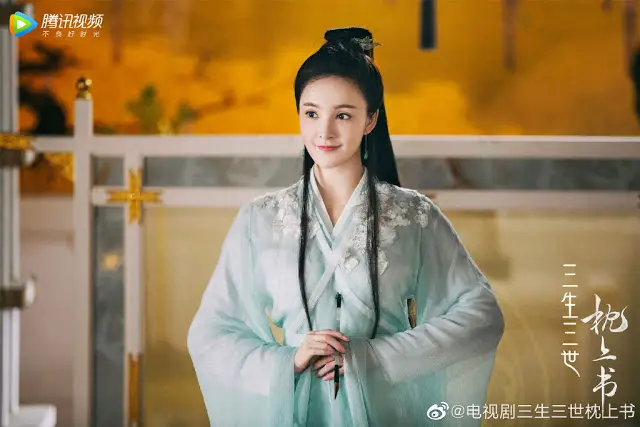 The criticism didn't end there for the actress as despite her action to defer to the people's choice of Fengjiu, netizens continued to attack and bash her online once the series aired. Moreover, there are two more things that further gave credence to the supposition that the little girl she was referring to was herself. First, the actress actually tried to commit suicide in 2018 by taking some pills. Thankfully she was rushed to the hospital just in time. Secondly, Liu Yuefei is her "new" name since she was originally called
Liu Yuxin
. 
"She 
hid herself in the darkness again, alternately reliving the feelings of outrage, anger, pain, hatred, forgiveness, inferiority, comfort, and destruction … She wants to have a live broadcast of her death! What should she do? Who will write an ending to her story?"
The internet 
can be a great place, but it can also be a cruel place. The cruelty that has led to this negative headspace and the amount of vitriol cannot be justified. Concerned fans who saw the parallel between the little girl and Liu Yuefei's own life situation thankfully rallied around, leaving her comments of support and love. Hopefully, the actress can take some time off, get some therapy, spend some time with her family and perhaps lay off social media for the time being to better take care of herself away from the naysayers.