Celebrities – most especially women, have always been under keen observation when it comes to the topic of plastic surgery. Yes, as bad as it sounds,
 it's become somewhat of a favorite breakfast-lunch-dinner kind of topic. After all, it's an open secret that many celebrities have gone under the knife. 
Nonetheless
, just because one visits a cosmetic clinic doesn't automatically spell plastic surgery.
 Actress 
Yang Zi
 recently became the topic of surgery speculations after being spotted entering a cosmetic clinic fully armored in black overalls, a matching black mask and cap – a celebrity staple when going on ninja mode – and
leaving only after dark. 
OF COURSE this could only mean that she went to get a top-secret celebrity fixing from the doc, right? (yes, I'm being sarcastic)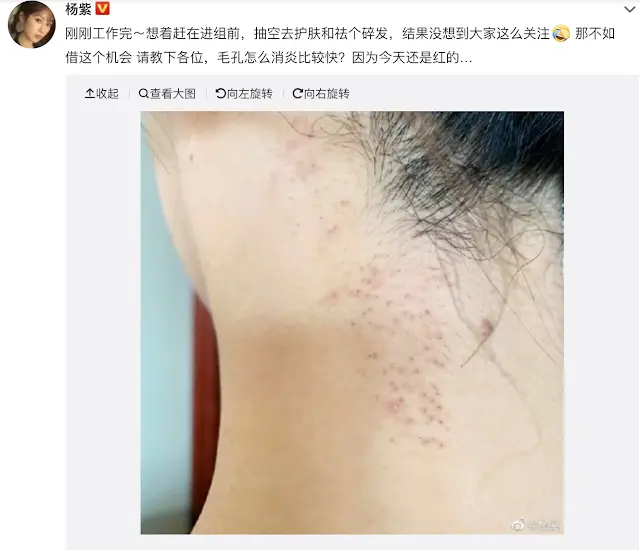 Luckily for them, Yang Zi is one smart and witty girl. After finding out about the recent murmurs going around about her online, she went on to address the issue by explaining that she had finished working and had finally gotten time off for some skincare before she started filming again. She never thought that everyone would be so concerned about it, so she might as well ask for advice on how to reduce inflammed pores because her nape is still red. As proof, she showed a picture of the real reason she went to the clinic. 
I mean, can't a girl just have her dermatologist check-up in peace?