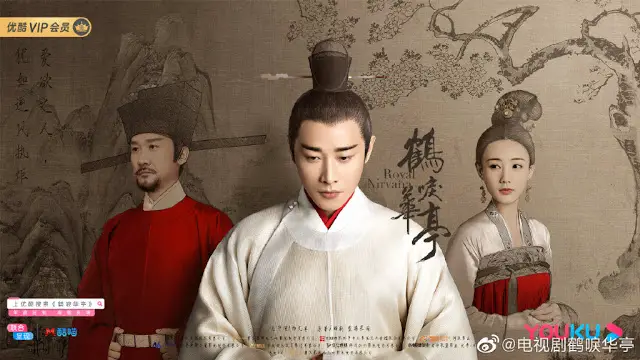 Wasn't it just a few days ago when we had the cast reveal for Royal Nirvana 鹤唳华亭
? And though we expected the show to make its premiere soon, I surely did not expect it to be 
yesterday. That's right, Royal Nirvana suddenly premiered at midnight on November 11, also known as Singles Day, which is only the biggest shopping holiday in China. 
The 60-episode series is based on a novel of the same name by Xue Man Liang Yuan 雪满梁园. 
It stars 
Luo Jin
 and 
Li Yitong 
in a revenge romance set against the complicated backdrop of palace politics in the life of a Crown Prince. Despite being the heir to the 
throne, Xiao Dingquan is a tragic character who 
yearns for his father's love yet only earns his distrust. He then meets and falls in love with the beautiful maidservant, Gu Abao, only to find out that she's hiding a dark secret.
 She has set her mind to do one thing: avenge her father's death. 
Joining the leads are Huang Zhizhong, Zhang Zhijian, Miao Pu, Jin Han, Zheng Yecheng, Wang Yu, Cheng Xiaomeng, Qiu Xinzhi, Bao Dazhi, Wang Jianguo, Feng Bo and Guo Peng. Wang Jinsong, Hao Lei and Liu Dekai are in special starring roles. 
The large cast is reason enough to make viewers tune in but of course, the intricate plot seals the deal especially if like me, you live for the angst. Historical dramas so often
 explore the dynamics between a king and a prince which always make for a very intriguing watch. Luo Jin certainly has the acting chops to convincingly serve up the character of the prince you desperately
 want to root for, and I hope the journey does not become too heavy to bear. Nonetheless, the shots are beautiful. 
It seems like Royal Nirvana decided to jump on the bandwagon of shows like 
The Longest Day in Chang'an
 which 
quietly premired
 without giving any hints beforehand. Maybe it'll do just as well. With actress Li Yitong having the most unaired dramas at one point, it's good to see that her works are finally seeing the light of day as her other drama
Blossom in Heart
 with Deng Lun is also airing. 
Release Date: November 12, 2019 Youku (three episodes every Monday and Thursday for members), one episode Monday to Friday for non-members