It has been a year since
Jiang Jinfu
made headlines due to accusations that he physically abused his ex Japanese model
Haruka Nakaura
. Back then, Jiang Jinfu 
was eventually freed with no criminal offence on his record after his initial arrest Japan. 
However, his new lady love,
Julieta Benavid
, has revealed that she's been going through the same thing. 
It was around July this year when Jiang Jinfu was spotted out in public with a new woman a couple of times. But it wasn't until Chinese Valentine's Day that he publicly acknowledged his new relationship. She is said to be from Uruguay but is currently living in Shanghai. While it may seem like everything has changed for the better, Julieta came forward bearing a shocking news.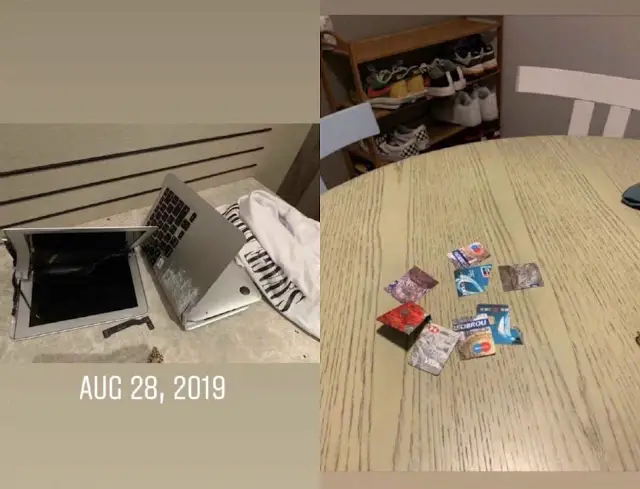 Through her IG story on November 26, she shared what she's had to endure during the short time she was with the actor: "After 3 months of recovery, I can now reveal what happened. I believe that everyone should know the truth. Living with Jiang Jinfu is like living in prison, he is a control freak, violent and an extremely jealous person. He doesn't let me see my friends, whether boy or girl, and checks my phone messages and contacts.  If he's gone for 30 minutes, I have to text him a very long message so that he doesn't freak out. He would compare the length of the message I sent him with messages I sent to my friends in the past. He once threw my phone and broke it, broke my laptop, and cut up my bank card. He forced me to use up all my money and wanted me to become pregnant. He squeezed my neck, he punched my tummy and he even threatened to kill me twice. One time, he was driving and he crazily said that he would crash the car and die together with me.  My ears hurt from his constant yelling. He caused bruises to my arms and legs but because he is afraid of the media, he didn't want to hit my face. During the last times I was with him, I've been trying to escape and in August, I luckily got the chance. Today I am safe and healthy. This all happened during the less than 2 months that I was with Jiang Jinfu but the pressure has seriously affected my physical and emotional wellbeing. If there are any women with the same experiences as me, please bravely leave. I know this is very hard, but nothing is more important than life, health and safety. And I hope that if you have a friend who's been abused, you can help him or her. If I didn't have my friends help and care during these times, I wouldn't have been able to go through this difficult time."
She added, "He even insulted his own parents and threatened that he will beat them. He kicked his dad's car mirror and said that he'll beat his mom. His parents are both very good people, I feel bad for them to have to face such a son."  
Update: Jiang Jinfu has not made any comments. Julieta Benavid shared another post on November 27 to thank people for their support. She said, "Thank you everyone for your love, do not worry about me, I just want to look ahead and live well ~ Don't think that I'll have a bad impression of Chinese people, I have lived in China for more than five years, and it has become my second home. Love you all."