After 
being relentlessly hounded with numerous divorce rumours,
C-Ent couple
Jia Nailiang
and Li Xiaolu have officially called it quits, putting an end to their marriage of 7 years. Li Xiaolu has been in the centre of a cheating scandal since the beginning of last year after paparazzi caught the actress leaving the home of Chinese rapper PG One during the wee hours of the morning. Shortly after, her husband Jia Nailiang was seen moving out of the couple's shared residence which no doubt further fueled the rumours that the couple had separated.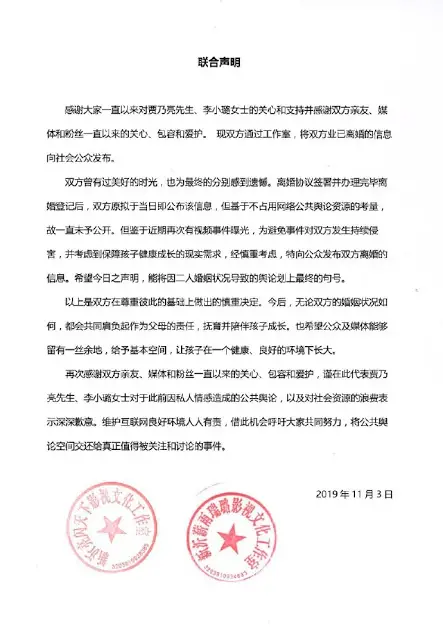 Since then, 
the issue has semi quieted down, at least until a few weeks ago when new photos and intimate videos the actress shot with PG One were leaked.
In all honestly, it looked like the couple's relationship was pretty much headed towards divorce early on. And now that the videos have surfaced, announcing the divorce through a joint statement from their respective studio's was pretty much the only possible ending to this saga. I feel bad for Jia Nailiang, but I think the biggest loser in all this is the couple's daughter, little Tian Xin, who had to go through the breakup of her family at such a tender young age! 
Li Xiaolu 
also made her own statement today after the divorce announcement. She said that before news of the infamous incident of her leaving PG One's residence broke out, someone called her up threatening – "we photographed you doing "something", what do you think is going to happen?". The actress added that in the face of the huge barrage of public opinion against her, she'd thought about taking her own life, but only shot down the idea because of her daughter. "I am standing now because it is a mother's responsibility to do so" she says. If anything else, Li Xiaolu asks people to direct their criticisms towards her and leave her family and friends alone. As for Tian Xin, the couple will be sharing custody of their daughter who rightly deserves to live a healthy and normal life as much as possible.