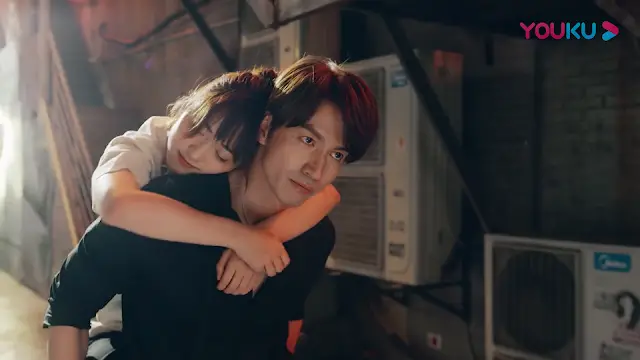 In the world of fashion where talent and hard work alone are oftentimes 
not enough
, is luck the missing key that one needs in order to make the cut? 
It seems luck is strong on 
Shen Yue
's (
A Love So Beautiful
,
Meteor Garden 2018
,
Another Me
) side because just after getting her big break as Shancai in the 2018 remake of hit Taiwanese series
Meteor Garden
, she gets to work with none other than the OG Dao Ming Si,
Jerry Yan
!
Just how many Dao Ming Si's does this girl need in her life?! 
Count Your Lucky Stars
交换吧, 运气 author 
Mo Xi 漠兮 
paints 
the life of Tong Xiaoyou, a diligent and hardworking rookie designer (played by Shen Yue), whose life has been but a series of unlucky events. 
Whilst her egotistic and aloof editor-in-chief Lu Xingcheng (played by
Jerry Yan
), has caught all the luck in the world with not just his looks, but also his career and status. 
When news first broke of a team up between Jerry Yan and Shen Yue, it received mixed reactions from fans and viewers alike who shared their discomfort over the fact that Jerry Yan is twice Shen Yue's age. 
Some even went as far as calling Jerry Yan, Shen Yue's "uncle" or "grandpa"
 and opted to boycott the show once it airs. 
As a fan of both of them, it's cute to see that the trailer doesn't shy away from portraying these two as a couple and allowing them to showcase their acting. 
I'm seeing undeniable chemistry and no signs of awkwardness in their kissing scenes – contrary to what had been expected. 
The two are shown getting into some sort of feud
and after a
failed
attack? they both accidentally
exchange a kiss that switches their fortunes.
Ooof. 
We see the two try to return their
mis
fortunes back, but after several attempts, he decides to make her his
slave
 servant by living together. Does that even make sense?!
(Seriously?! This face?!)
Is it any wonder that Jerry's fans are dubbing him as a 'Vampire'. The actor hasn't aged since his Meteor Garden days and the callback to the show was definitely picked up by many when Jerry uttered
 his famous Dao Ming Si line, 
"If apologies worked, who would need the police?"
I'm guessing we'll be seeing a TON of kissing scenes from the two. I counted. 
There were six.
 The question is, were they out of love or just a hopeless attempt to restore their 
un
luck?