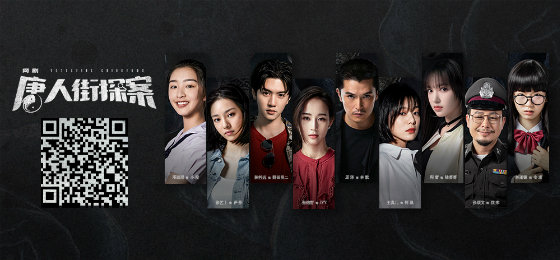 For those of you who have been a fan of C-entertainment, you cannot not know about the mega hit that is Detective Chinatown 唐人街探案. The comedy-mystery films starring actors Wang Baoqiang and Liu Haoran have garnered a lot of attention both domestically and internationally. Well, it seems that director-actor Chen Sicheng who is the mastermind behind the successful franchise isn't through yet as he introduces a 
drama adaptation of the movies that is set to air on the streaming platform iQIYI.
What's unique about this 12 episode series is that it will revolve around three stories and follows nine different leads. The drama itself is directed by four different directors! Whew~
Roy Chiu
(Waking Love Up) plays Lin Mo. He is the student of Tang Ren, the main character from the movies played effortlessly by Wang Baoqiang, who is known as the
 number one detective of Chinatown in Bangkok.
Janine Chang
 (Here to Heart) plays a character named Ivy who is the wife of the murder victim. Coming on the heels of dating rumors between the two that technically got shot down when Janine merely said thank you after Roy's side confirmed that he was pursuing her, it's amusing to realize that they're in a drama together too. 
Among the other leads are Wang Zhener (Women of Shangha), Chen Zheyuan (The Legend of Zu 2), Kpop fans may also know Cheng Xiao (Legend of Awakening) from the Kpop idol group Cosmic Girls, Zhang Yishang (Azura), Zhang Songwen (End of Summer), Ancy Deng Enxi (Project 17: Skate Our Souls) and Chen Yusi (Mojin: The Worm Valley).
Fans should also be excited to know that Detective Chinatown 3 which is the third installment of the movie franchise is expected to be released in 2020 on Lunar New Year. I'm excited to see how Chen Sicheng has managed to turn this blockbuster trilogy into an upscale drama.