Based on a widely popular webtoon, The Tale of Nokdu is a new gender-bender series about a man who stumbles upon a village full of women and must transform himself into the docile widow Kim.
Nokdu (Jang Dong Yoon) is a young man skilled in martial arts, living on a isolated island with a few villagers. When a group of assassins raid his home and hurt his family members, he wishes to capture the assassin who survives and flees. Thoroughly convinced that the assassins were hired to slaughter because of him, Nokdu winds up in the capital where he stumbles upon Dong Dong Joo (Kim So Hyun) in disguise as a man. He runs into her the moment she plans to murder the King as he proceeds through a parade in the city and she loses her chance to exact her vendetta.
The two continue to clash through some unfortunate events and part, never to meet again but fate has other things in store for them as Nokdu discovers his assassin living in a village full of widows where men are forbidden to enter. His plans foiled, he does the unthinkable and masquerades himself as a woman, the widow Kim in order to get closer at the truth. Pressured by all the women, widow Kim agrees to stay at the Gisaeng House to avoid the other widows and for the sake of propriety. Nokdu thinks he's finally found a way in but becomes flabbergasted when he's assigned to share a room with none other than Dong Joo.
I really can't recall the last time K-dramas ever had a male cross-dressing or acting like the opposite sex, especially in a historical series and I'll even go the extra mile and say this is probably the first since we only get males dressed in Gisaeng clothing as comical relief or a fleeting moment of disguise when on the run, usually from guards. It's typically always the female lead who conceals her identity and that's largely due to how easily male costumes lend themselves to the disguise itself but Jang Dong Yoon makes one pretty lady that simply glows! Maybe even angelically? If he was an underrated actor before, he most definitely won't ever be again for the simple fact that he's handsome and pretty. Aigoo. I guess some people really do have it all.
With a reverse gender-bender drama like this, there's a lot of subject matter being covered that's never been portrayed before and it becomes such an entertaining and interesting watch. I haven't read the original source material but a lot of fans of the webtoon have already made note of how the drama deviates from the webtoon series but think it was the correct choice stylistically, in order for the series to be conveyed onscreen. So with that in mind, my impression is solely based on the drama itself since I can't add much beyond what I've seen fans comment on and hope that the changes won't bring about alterations that might end up being distasteful and change the story entirely.
As a Sageuk, the show seems to have this division of genre components and contrasting atmospheres; we get the light, comedic side of things with Nokdu and Dong Joo while there's a darker side to the series when it shifts over to the palace, assassins, and the king's court. When the show makes these kinds of shifts, everything about it changes, specifically in tone and cinematography elements. It still captures some of the traditional Joseon period drama elements, but elevates itself as being unique with its distinctive storytelling by catapulting the gender-bender situations and the clashes between our two leads.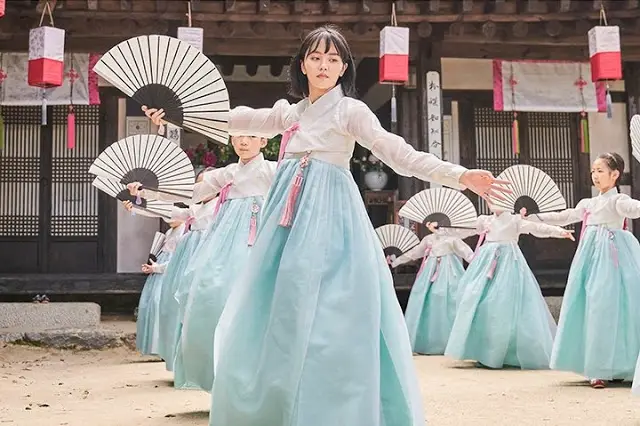 What gets you engrossed is how the show literally dives into things in the beginning. We have no conception of Nokdu's origins other than the fact that his family has been on the run for years and have to rely on the drama to reveal Nokdu's past for us. I like how the series lets the audience do a bit of guess work and formulate their own theories and by the 4th episode, we can establish who Nokdu might be, but it still makes things even more exciting since there's historical relevance to what's occurred to Nokdu and the kingdom's current predicament, as well as Dong Joo's own past.
Dong Joo seems like she's full of teenage angst but she's clearly hiding facts about herself that many of the widows are unaware of. Her path has evidently collided with Nokdu's before which means their present encounter is a fated one even if it's unclear how the two will uncover secrets that involve the King and confront their villains and demons. I think Kim So Hyun is a great fit because her presence is simply commanding onscreen and her personal record of starring in Sageuks is no joke either. She definitely knows how to portray a lovable tomboy since Dong Joo is no refined lady or Gisaeng, focusing solely on her own motives or trying to protect others.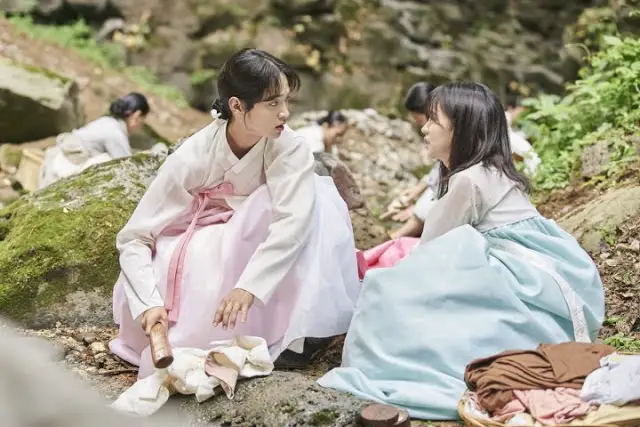 It'll be interesting to see how her relationship with Nokdu grows since they essentially become frenemies but their developing feelings may jeopardize Nokdu's identity and their own individual missions. Nokdu on the other hand, is fairly sensible as a male character but I think widow Kim is the real scene stealer since Jang Dong Yoon's impersonation of a female is a riot! And as hilarious as it is, the effort he's put into capturing female mannerisms of speech and body language makes the show such an enjoyable watch! His performance is commendable, and one I'll always remember and fondly look back on since his role as widow Kim is so amusing and charming.
My only major concern would be in regards to the progression of each episode, we either get the right amount of information revealed in order to keep the plot and the story moving forward or a few cookie crumbs that make the show a little lacking at times. There's just something that feels amiss at times when the drama transfigures into its 'darker' side of historical intrigue and conspiracies because the story feels like it's being dished out to us a little poorly while the vibrancy and solidness of the romance and comedy are delivered efficaciously. An imbalance of details seems to be present but this could be intentional and the drama could easily tie the strings and wrap up nicely during its second half but if these inconsistencies persist, I'd watch on wearily if you happen to feel the same way.
Considering the positive reception of the drama and the large fanbase of the webtoon series, The Tale of Nokdu is shaping out to be one the most loved Sageuks of the year. It has compelling characters, a refreshing take on gender-bender, and leads that don't disappoint. So here's to hoping the drama captivates and delivers until the very end!
Release Date: September 30, 2019 (Eng Sub available on Viki)