Xing Zhaolin's drama Lucky's First Love
may have just
hit the air this week, but you'll be seeing him again on screen once Standing in the Time 不负时光 where he co-stars with adorable actress An Yuexi hits the screens next week! Good news for Xing Zhaolin fans who'll be getting a double dose of their favourite actor – the question is just having to make a choice about which to follow!  
Anyway, I do believe this is the first time the two have been paired up for a drama so 

it'd be interesting to see how the chemistry between them will work out versus that of Xing Zhaolin's and Bai Lu's. On the other hand it might not also be a good idea to have two dramas going on simultaneously especially for his co-stars since well, people will tend to compare.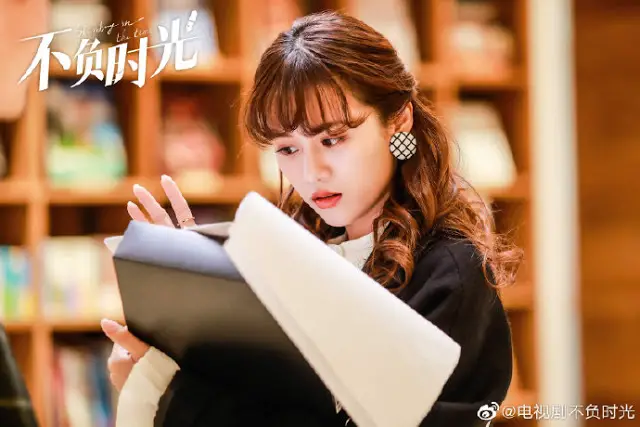 Chasing your dreams post graduation can be a daunting thing so this drama will surely resonate with new graduates poised to make their mark on the world. With a little bit of confidence, a dash of gumption, and a sprinkling of luck, hard work and tenacity will bring you to greater heights!
Set in a publishing house, Standing in The Time is a 38 episode series telling the tale of two young people caught between their dreams and reality. An Yuexi plays Li Jiao, who was very much into Rui Sha magazine when she was growing up. Her love for the magazine led her to want to pursue her dream of working as a fashion editor in the publishing house one day. Following graduation, Li Jiao confidently strode in for a job; unfortunately for her though, there weren't any vacancies! 
A dejected Li Jiao finds herself in the park where she meets an equally low spirited Zhou Zimo (Xing Zhaolin). 
Thus begins a friendship that later on evolves into love as they cheer each other on, realising the value of life in the midst of dreaming. It is a remake of the J-drama
Pretty Proofreader
starring
Ishihara Satomi
and
Suda Masaki
. 
Standing in the Time also stars Zhu Yan Man Zi, Cheng Feng, Li Tingting and Zhao Xuan. 
Release Date: October 2, 2019 iQiyi, Tencent