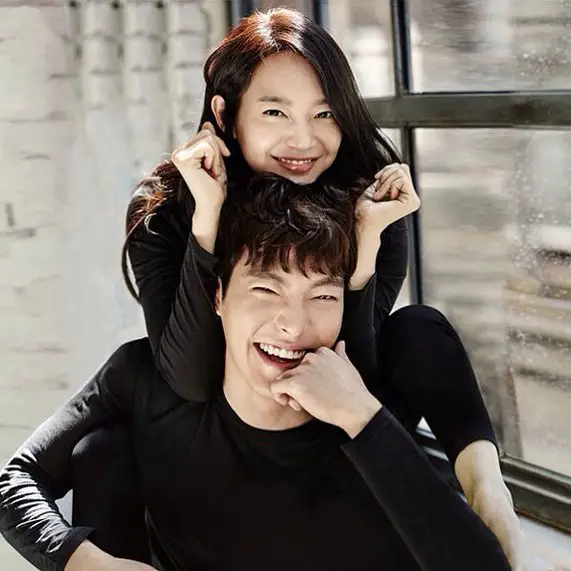 We've been haunted by messy break-up news lately so how about one that's actually full of wedding bliss! And as if to aid my still-recovering broken heart from couples who recently separated, the rumor is about my favorite real-life couple:
Kim Woo Bin
and
Shin Min Ah
! 
For me, their relationship is the epitome of an almost-perfect relationship (let's face it, there's no such thing as a perfect relationship). They met during a shoot for a commercial, confirmed their relationship last July of 2015, and is now going strong for more than five years. The rumor of their supposed wedding started on the variety show Rumor Has It where reporter Choi Jung An mentioned that people close to the couple have been talking about their plan to marry either next year or on 2021. 
They may not be like other couples who are seen out in public often but they have their own ways to show they love and support for each other. Remember when Kim Woo Bin sent a food truck to Shin Min Ah who was filming for her drama
Chief of Staff
complete with heart-fluttering message saying "I support all the cast and crew of Chief of Staff especially Shin Min Ah."
And of course, who can forget Shin Min Ah being hands down,
the best girlfriend a man can ever ask for. She was there through Kim Woo Bin's lowest of lows and never left his side. When he was diagnosed with Nasopharyngeal cancer, the actress stood by him and even took some time off from acting to accompany the actor to his hospital visits. As his fan, I'm truly happy that he's found her. 
Can you imagine how their wedding will be? They're definitely one of the most loved celebrity couples in Korea so for sure it'll be a big news. Plus it's no secret that Kim Woo B
in has a lot of celebrity friends like Lee Jong-suk, Lee Kwang-soo, Jo In-sung, Song Joong Ki and EXO's DO. The entourage itself might be pretty star-studded. Naturally, they can also choose to have a simple, solemn wedding ceremony which will be perfect, nonetheless. 
Gosh. I hope this is true because if the two of them doesn't deserve a happily ever after, then I don't know who does.