The entertainment industry is not for the faint-hearted so it's no surprise that the feisty yet charming actress, Zheng Shuang is currently celebrating her 10-year anniversary.
When I first dipped my toes in the world of C-ent, I remember hearing her name quite often because of different issues being thrown at her. But because she's not the type to play victim, she's known for bravely addressing the issues and was gifted with loyal fans. And now, she's celebrating a decade in showbiz.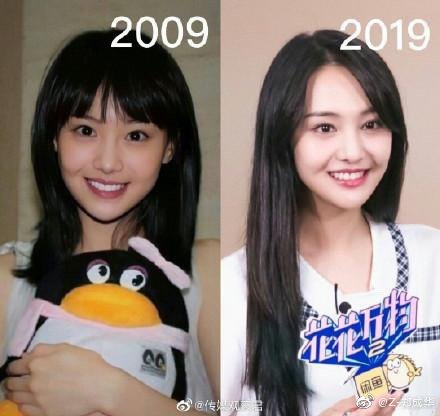 To commemorate the occasion, her ever-supportive father Zheng Chenghua shared photos of Zheng Shuang from 2009 to 2019. One showed a teenage Zheng Shuang in her first drama Meteor Shower. Talk about a major throwback! 
Zheng Chenghua describes his daughter as someone with a set of goals but with more freedom. 
Zheng Shuang recently guested at Dee Hsu and Kevin Tsai's talk show
Hua Hua Wan Wu 
真相吧!花花万物 which she attended with her mom.
The actress was asked about her relationship with fans. I love how she answered it, categorizing the kinds of fans into two: one being a fan who maybe likes an actress for her looks or perhaps found her dramas and became interested in it, but it could be temporary and not necessarily the best thing to have short-lived popularity. 
The other is the kind of fan she wants, someone who likes her for her personality. For her, this is something that can be cultivated. 
Zheng Shuang and her mom
It seems that Zheng Shuang is actually open to have a closer bond with her fans saying that she hopes to converse with them about everyday things and that someday, they could even play card games together. 
Perhaps what made this even better is that her father shared that his daughter has never changed, always wanting to have a close relationship with the fans for as long as he can remember, therefore revealing that this is one of the actress's long-standing desire in her 10 year career. Aww, this girl certainly is full of love!