For those of you who don't know, August 5 is Wang Yibo's 22nd birthday. Even if you didn't know, you might've seen his birthday trending among the Weibo hot search earlier in the day because of a funny mixup thanks to his The Untamed co-star Xiao Zhan – well technically, it wasn't even him.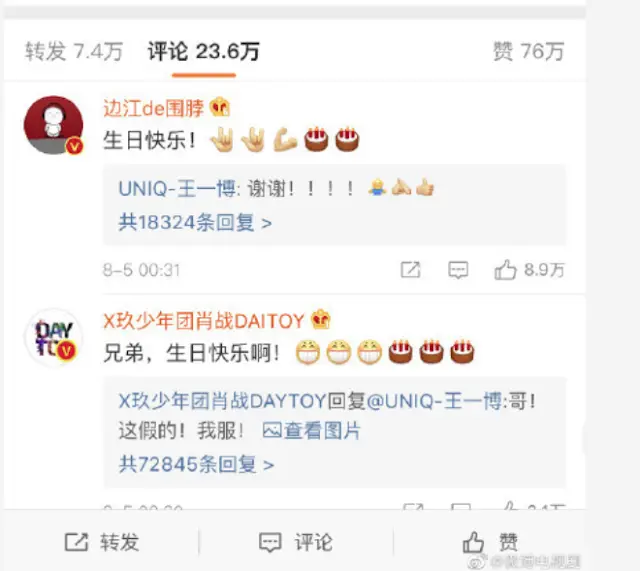 Somebody had used a fake account and posed as Xiao Zhan to greet Wang Yibo a happy birthday before the real one did!  The only hint that it was a fake account was instead of DAYTOY, which was part of the username the real Xiao Zhan used, the fake one spelled it DAITOY. For those with a keen eye, the impersonator also has the Weibo verified logo sneakily embedded in his profile picture. 
Wang Yibo thanked the fake Xiao Zhan for his greeting which prompted the real Xiao Zhang to tag 
Wang Yibo in a comment. He said, "Bro, it's fake…" He also uploaded a personal photo with Wang Yibo just to prove that he's the real deal and the caption, "Nothing more to say! Happy birthday Lao Wang! Charge! @Wang Yibo." 
Wang Yibo was surprised and replied with the words, "Oh my god, thank you, brother Zhan!!! (need a new motorcycle photo)"  
Happy birthday Wang Yibo!