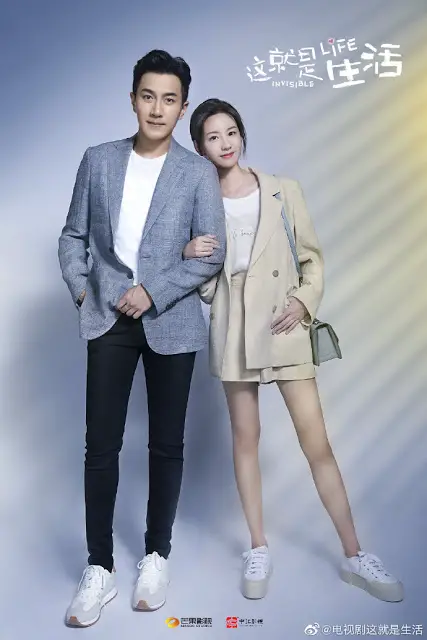 Good evasive tactics wanted by couple hiding a giant secret! Hawick Lau and Chen Duling are a couple living a secret life as a married pair in their newest drama Invisible Life 这就是生活. 
In it, 
Chen Duling plays Ye Xiao Bai who, while dancing an avoidance waltz to hide from her marriage obsessed mum (how many of you can relate?) joins a project managed by Guan Yi, Hawick Lau's character and manages to fall in love with him!
 As workplace romance is a big no-no frowned upon in most organisations, the pair are facing a huge challenge in keeping their relationship under wraps. 
Can you imagine keeping such a thing hush hush and anxiously guarding every word you say, every action you make so it won't give you both away? I'm sure chatty folks by nature must be very curious how these two will manage to pull it off, coz I'm not sure I can in their shoes. 
My goodness I'd be pulling my hair out in stress over this as early as day one!!!
 So yeah, 
I'm pretty sure we can expect a lot of tension filled moments from the two.
The drama has just recently concluded its three month filming schedule and although the show's social media page has not yet obliged to share some scenes from the series with us that just yet, here's a look at the
Hawick Lau
–
Chen Duling
pairing to pique some of your interest.
For what it's worth, despite the age difference between the two, I dunno, for me it works. I reckon the 44-year-old Hawick Lau looks young enough to believably play the 25-year-old Chen Duling's on screen love interest. But that's just my opinion. Update: It has secured a release date of December 9, 2020 on Hunan TV, MGTV, iQIYI and Tencent. 
OMG the feels!
Not a poster from the drama but here's Chen Duling and Hawick Lau at the boot ceremony.
Hawick Lau and Chen Duling will be joined by actors Ben Huang Shuowen, Zheng Wei, Li Qiang, actresses Deng Sha,  Luo Yutong and Zhou Chuchu.
And some fun photos below of the cast and crew celebrating the end of filming.