This summer might be a scorcher, but in drama land, things are cooling off thanks to the downpour of binge worthy dramas this side of the season! I guess good things do indeed come to those who wait because after several disappointing drama cancellations, delays and pushbacks, we're suddenly INUNDATED with choice offerings of shows to obsess over this summer 2019.
Overwhelmed? Don't be. Don'
t cha worry because we always have your back! In no particular order, here's a shortlist of dramas that will surely tickle your fancy.
First on the list is the political thriller The Longest Day in Chang'An which had viewers raving about its excellent production quality and story line. The show vividly captures in detail the hustle and bustle of daily life in the city and has also received praise from fans for its meticulous rendering of the period's rich architecture, with the beauty of the period's clothes, makeup and props sure to also blow you away!
Starring Jackson Yee in the role of Li Bi, chief of Chang'An's anti terrorism bureau and Lei Jiayin acting as Zhang Xiao Jing, a freed death row convict, The Longest Day in Chang'An counts down the hours as the two heroes team up in a race against time to foil a sinister plot that's afoot in the Tang capital city.
Reminiscent of the action drama counter terrorism television series 24, definitely expect some intense fast paced action as the show takes place within a time frame of 12 hours before all hell breaks loose. It currently holds strong with a Douban rating of 8.6.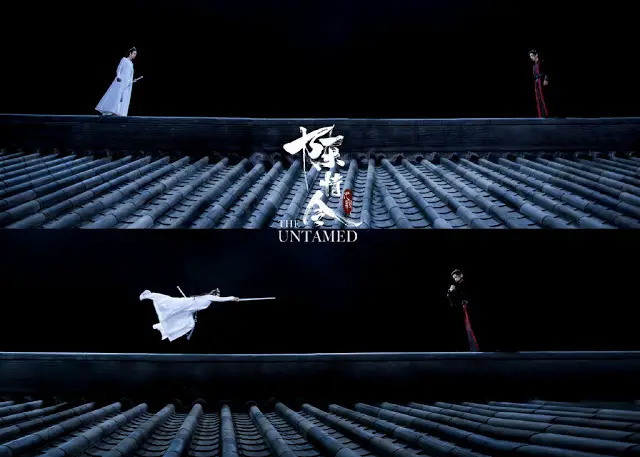 Based from
Mo Xiang Tong Xiu's
BL novel entitled
Grandmaster of Demonic Cultivation
(Mo Dao Zu Shi),
The Untamed
is a unique
xianxia
set in the pugilist world. 
The powerful Wen family dominates over the other great families of Lan, Jiang, Nie and Jin maintaining the peace in the pugilist world. In the story, Lan Wangji of the Lan clan, becomes lovers with Wei Wuxian, the son of an old acquaintance of the Jiang clan. Through the course of their adventures, the pair inadvertently stumbles upon an evil conspiracy meant to wreak havoc across the clans. 
When Wei Wuxian tries unsuccessfully to protect the innocent members of the Wen family from persecution, he goes missing. He resurfaces 16 years later and reconnects with Lan Wangji. Together, the pair work hard to crack open a series of baffling murders and eventually unmask the true villain behind it all.
Okay, I know some people are concerned that the novel being adapted into a drama might mess too much with the book's details to make it more commercial (and you know, sensor). But in this case, although there are changes, majority of the drama is still pretty much in line with the novel with the dialogues and iconic scenes kept in. I reckon the show is on to a good thing as it has managed to win over the novel's die hard fanbase what with the 7.2 Douban ratings the show has gotten as proof.
The Untamed stars a multitude of familiar pretty faces such as
Xiao Zhan 
from X NINE, 
Wang Yibo 
from UNIQ, Meng Ziyi, Xuan Lu, Yu Bin, Liu Haikuan, Wang Zhuocheng, Zhu Zanjin and Wang Haoxuan.
Looks like viewers have fully embraced the latest installment to the Novoland franchise with the show garnering praise for its beautiful cinematic quality. Racking up a Douban rating of 6.9 is Novoland: Eagle Flag whose unexpected premier date was a happy development from the HUGE disappointment caused by its last minute premiere cancellation earlier. 
Jump back once more into the world of Novoland and see for yourself how heroes are truly made. Get to know Lu Gui Chen, Ji Ye and Princess Yu Ran, three remarkable friends brought together by war who will rise above the adversities life throws at them. Potential love triangle aside, trouble is brewing elsewhere and the three friends decide to join the battle, sealing their fate and shaping their destinies as heroes.
Novoland: Eagle Flag stars Liu Hao Ran, Chen Ruo Xuan and actress Lareina Song.
Love is something worth holding on to, but how far are you willing to go for love? Meet Jiu Chen, the god of war who fell into a deep slumber after sealing in the demon god in an epic battle ten thousand years ago. Snooze time is cut short for him when Ling Xi, a fair maiden, accidentally awakens him from his slumber. Naturally, the two fall in love. There's just one hiccup to this budding love story though – Ling Xi's continued existence is the key to unleashing the demon god from his sealed tomb. Unwilling to kill his innocent love, Jiu Chen tries to change Ling Xi's fate.
Based on an original screenplay, this new drama from the makers of Three Lives Three Worlds TenThousand Miles of Peach Blossoms will definitely make you feel nostalgic, like you're stepping back into the peach blossom strewn world with the dreamy visuals, the pretty colours and floaty costumes offered up by Love and Destiny. 
The series stars the super pretty 
Ni Ni 
and 

Chang Chen

 as fair maiden Ling Xi and god of war Jiu Chen respectively in this xianxia drama. With the first few episodes already aired, word is that Netizens aren't quite happy with the casting of these two – Chang Chen is said to look "too old" for some to fit the dreamy bill and Ni Ni whose acting is said to be too stiff and "trying hard" for some. Nonetheless, a little bit of patience might just pay off for viewers since it gets better as the series progresses.
Last but certainly not the least, throwing in a modern drama into the mix just to shake things up y'all! You can't NOT expect us to include one of the hottest dramas knocking it out of the ballpark this season right?
Go Go Squid has garnered a Douban rating of 6.7. And if the number of clicks we're getting is proof of the show's popularity, then this drama is bound to win the title of prom king/queen this summer! 
So grab a cold drink and settle down with this cute romcom between a bubbly anime loving singer who falls for a handsome guy who's just a wee bit beyond her reach –  genius and legendary e-sports gamer Han Shang Yan. The drama's usually outgoing protagonist Tong Nian finds herself bumbling about whenever she encounters her crush and must find a way into his cold and unreachable heart. Will her persistence finally win over her man or will Shang Yan continue to lock his heart away from her?
Go Go Squid stars the adorable Yang Zi of Ashes of Love fame and Li Xian who rose to leading man status for his stellar performance in the commercial hit Tientsin Mystic.
Did your favourite dramas make it into the list? Let us know what you're currently enjoying in the comments section below. After all, sharing is caring right?