They say unexpected friendships are the best, which I think is very fitting for Mr. Fighting 加油,你是最棒的. 
The drama is based on a novel of the same name written by Zi You Ji Guang. It is the third installment of the Gentlemen series penned by screenwriter Li Xiao that is also comprised of To Be a Better Man and Mr. Right.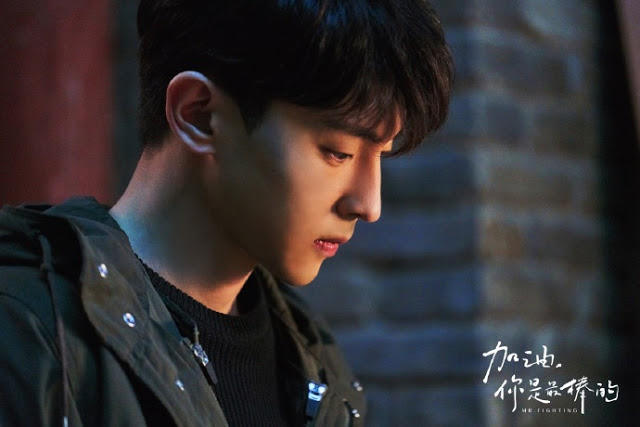 The 45-episode romance drama tells the story of a washed up actor wanting to reclaim his popularity. 
Deng Lun
 takes up the role of Hao Ze Yu. It's very ironic because the two can't be more opposite. After all, Deng Lun is still savoring the height of popularity he's achieved since 
Ashes of Love
and he also starred in
My True Friend
this year. 
On the other hand, his character is a star considered to have past his prime. Hao Ze Yu first had his taste of stardom ten years ago after joining a popular talent competition where he was well-received by fans and became famous. However, it is true that like beauty, fame is also fleeting. The actor finds himself struggling in the entertainment industry. 
Enter the most unlikely crew he's ever met: Fu Zi, a chubby yet charming woman who is out of a job is played by Sandra Ma. Fu Zi's dad who is a driver is played by Han Tong Sheng. Completing the gang is a beautiful woman in her middle ages and the CEO of their entertainment company, played by Ni Hongjie.
Together, 
they make it their mission to help the actor get back in the spotlight. But as we all know, any path leading to one's dream will never be smooth. There will come a time when Hao Ze Yu has to decide which is more significant: his only shot to stardom or his blooming relationship with Fu Zi and the gang? 
I always love stories where the protagonist is in a crossroad. Even though his likely choice is kind of obvious, it's the journey to get there that can be so compelling. Hmm, I'm betting that there will be a third choice where Deng Lun's character will manage to be on the top again AND get the girl.
Deng Lun and Sandra Ma were both in Who's The Keyman. Despite it being a variety show and not a romantic drama, some viewers actually noticed how good the two are together so I'm waiting to see if they also have a good onscreen chemistry.
Release Date: July 31, 2019 Hunan TV (two episodes daily at 7:30pm), Tencent, iQIYI, Youku
Source: 1