As the song goes, how deep is your love?
Most of us were raised in a generation that's been brought up with the mantra of following our hopes and dreams so it's kinda hard to imagine loving someone so much that you're willing to put your dreams on hold for that person. Does this scenario resonate with you? If it does, then be sure to catch Zheng Ding Ding and Ning Wei Jin's sweet love story in the 40 episode series, Love is Deep 
浅情人不知.
Apparently, our heroine's love is deep enough that she set aside her dreams of designing pet toys for her man. Unfortunately for her, the man she put her dreams on hold for, Chen Xun, is still hung over his ex. Realising that Chen Xun has still not gotten over his ex girlfriend, Ding Ding decides to leave their unhealthy relationship and finally chase her dream as a toy designer for cats!
Ning Wei Jin is a surgeon who has always been steadfast in his support of Ding Ding, encouraging her to pursue her dreams. How deep is his love for our Ding Ding? Ning Wei Jin has always liked her but was shot down by Ding Ding who wanted to solely focus on her career after he confessed his feelings. Undeterred by her rejection, he continues to care about her. Eventually, his fortitude begins to pay off as she begins to reciprocate his feelings. However, their happily ever after will have to wait (for a just wee bit) as their relationship is sorely tested by bumps and hiccups along the way.
Actress
Connie Kang
plays our young protagonist Zheng Ding Ding and she's ably partnered by actor
Harry Hu Yunhao
as her new love interest. I don't know much about him to be honest except that he was a supporting cast in 2016's prequel to
The Lost Tomb
series –
The Mystic Nine
.  Actor
Zhao Yixin
who played Prince Long Feiye's devoted attendant in
Legend of Yunxi
stars as Ding Ding's ex Chen Xun (the man she gave up her dreams for). Actors
Huang Hao Yue
,
Marmalade Zhang Zixuan
,
Wang Xiao Bai
,
Chang Long
,
Li Zheng Yang
,
Chu Qian
,
Xie Cheng  Ying
,
Zhang Qing Qing
and
Su Zelin
will also be appearing in various roles in the drama. Oh oh, and last but not the least, let's not forget the cute felines who'll surely be stealing your hearts with their cuteness!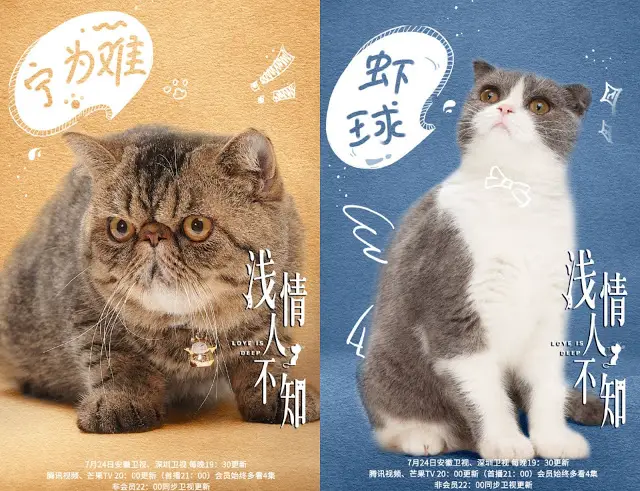 Oh my word. Can we just take a moment to appreciate the cats! This cat lady's doing the happy dance because will you look at how adorable the series posters are with the kitties! So EXTRA right? Cats cats cats! The fluff-a-lumps are sooo cute!
Release Date
: July 24, 2019 on
Anhui TV
and
Shenzhen TV
(two episodes daily at 7:30pm), and online on
Tencent
,
Mango TV
(two episodes at 8pm)