Disney 
has been churning out a whole lot of live action remakes of its beloved classics these past few years and on the heels of the commercially successful release of Aladdin, the company drops yet a new teaser in the middle of the FIFA Women's Finals yesterday of its 1999 animated classic, Mulan. 
The short teaser (gah 1:29 minutes is just toooo short IMHO) has elements that are familiar for everyone who's grown up with this beloved story – the Hua family consults a match maker for Hua Mulan, the family's eldest daughter who, instead of marrying disguises herself as a man to serve in the Imperial Army in place of her sick father. Mulan must then overcome various hurdles in a journey that sees her transform into an honoured warrior and a hero for China. Sounds familiar so far, right?
While the elements of the story are there, don't expect a sing along with the characters like other live action Disney remakes of Cinderella, Beauty and the Beast or Aladdin because the biggest change in Mulan lies in the overall feel of the entire film. The teaser shows a more serious and solemn undertone for the movie than that of the humorous animated version thanks in part to the antics of Mushu, Lucky Cricket and the Hua ancestors. And yes, come to think of it, there was no sign of Mushu at all in the teaser, I'm still keeping my fingers crossed that he'll be there in the next trailer installment.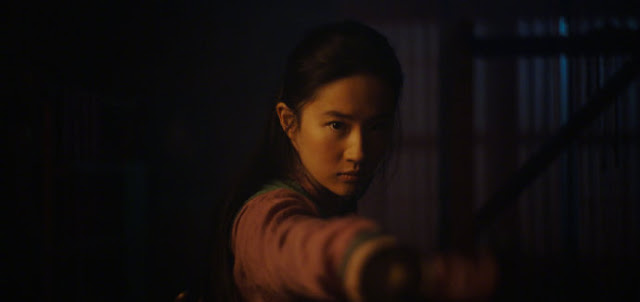 Yes, I will bring honour to us all.
Also, looks like Mulan was already a trained martial artist even before the army training camp, very unlike her klutzy self in the animated version. So yeah, definitely a few discrepancies in there. I'm always wary of remakes of beloved childhood classics since remakes could totally spoil what fans loved in the originals in the first place. That said though, I'm really looking forward to how this film with pan out, especially looking at how strongly bad arse, and yet regal Crystal Liu Yifei's Mulan manages to be. And yeah, excited how they're gonna CGI Mushu and lucky Cricket in – they were MIA in the teaser but I sure hope Disney realizes we're all fans of these two!
Are you guys excited to watch the live action version?