To everyone who'd 
"shipped" the Mo Qing – Zhao Yao pairing in The Legends, raise your glasses because your favourite couple Bai Luand Xu Kai are back at it again with Arsenal Military Academy 
烈火军校
.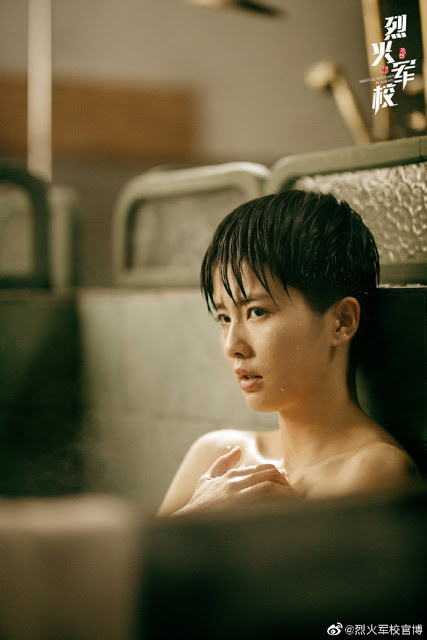 In a slight nod to the Legend of Hua Mulan, the 48 episode Republican era drama narrates the story of the kind hearted Xie Xiang, who impersonates her brother to join the army in his stead. Disguised as a man, she enters the military academy and makes the acquaintance of Gu Yan Zhen who hails from a rich family and the calmly collected Shen Junshan. 
Shared pain does indeed bring people together as the trio develop a strong bond whilst undergoing the rigorously strict training in the academy. As an added burden, Xie Xiang not only has to prove herself by excelling at whatever challenge the academy instructors throw at them, she also has to keep her real identity as a woman a secret at all costs!
In the end, through her relentless efforts, Xie Xiang wins the respect of her peers and instructors, graduating with outstanding results. When the Japanese army moves its troops into the Northeast region, the trio are forced to face down challenges that will test their resilience, courage and tenacity.
Actress Bai Lu will be portraying Xie Xiang, a fitting extension of her kick arse character Zhao Yao from The Legends. Actors Xu Kai and Toby Li Chengbin form the love triangle of the two men competing for Xie Xiang's affections as Gu Yan Zhen and Shen Junshan respectively. Aiyoh, it's going to be a hard choice for Xie Xiang given the two good looking men she has to choose from heh, although I'm pretty sure many of you will be hoping that she'll end up with Xu Kai!
Arsenal Military Academy will also be starring  Wu Jiayi, Liu Runnan, Wang Yizhe, Liu Sibo, Meng En, Lin Youwei and Gao Yuer, with a special guest appearance by Yin Zheng.
Release Date: August 6, 2019 iQIYI (two episodes every Tuesday to Friday at 8pm), VIP members watch 8 episodes in advance