In the words of Spanish poet Federico Garcia Lorca, "to burn with desire and keep quiet about it is the greatest punishment we can bring on ourselves". Indeed, as far as romances (or shall I say non romances) go, there is nothing more painful and heart wrenching to experience (and watch) than unrequited love. Misunderstandings, a lot of pining, bucket loads of tears, and hurt feelings is a situation I'm pretty sure none of us want to find ourselves in. Well unfortunately, such is the case for our two star crossed lovers in this web drama adaptation of Ba Yue Chang An's 
novel.
Unrequited Love 
暗恋橘生淮南 
is a campus drama starring
Zhu Yan Man Zi
and
Zhao Shunran
as our star crossed pair. Sheng Huainan (Zhao Shunran) is attracted to Luo Zhi when he meets her accidentally. However, things go awry when a text message from an old girlfriend identifies Luo Zhi as the reason his last relationship didn't work out. In the process of finding out the truth, Huainan learns more about Luo Zhi and discovers that she has been nursing a secret one sided love for him which has spanned over a decade. As the two FINALLY grow closer together, they find out that their path to true love is not always straight and that they must face challenges to finally attain their happily ever after.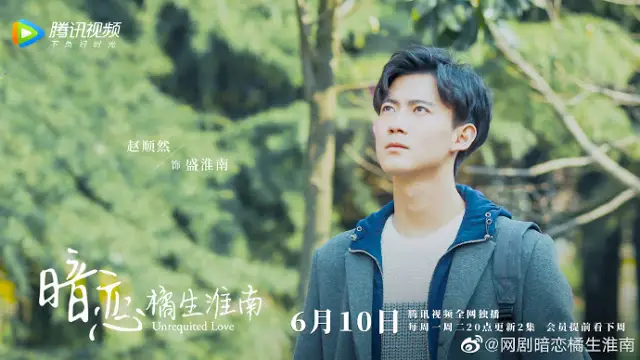 The drama also features Shen Yu, Zhang Yichi, Meng Qin, Chen Jiawen, Zhang Zhehao, He MeiXuan, and Yuan Baizi Hui.
Release Date: June 10, 2019 Tencent