I haven't seen actress Shin Min-Ah 
for quite a while in the small screens since watching her play Lee Je-Hoon's wife Ma-rin in the time travelling romance drama Tomorrow, With You. If you're wondering where she's been, the actress has taken a hiatus from the industry to spend some time with her boyfriend actor Kim Woo Bin after he was diagnosed with cancer and has been spotted accompanying him to the hospital. 
Well, Kim Woo Bin has already finished his treatments and is reportedly all better now. So news that Shin Min-Ah's back with an upcoming political drama Aide is a welcome update for fans who have been missing her!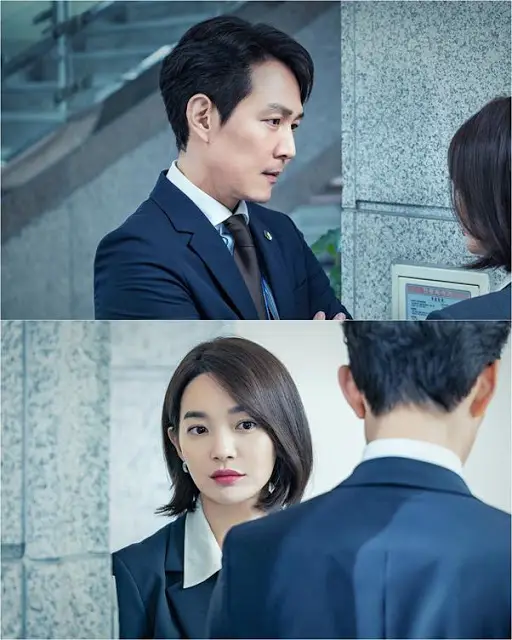 Fans won't have too long a wait as Aide, which gives us a behind the scenes look at the intricacies of the political arena, will be airing tomorrow, June 14 on JTBC. In it, the actress plays ambitious and capable newly appointed lawmaker, Kang Sun Yeong who has an awkward relationship with
Lee Jung Jae's
character, Jang Tae Joon, who's THE political aide rising in power – a super advisor of sorts who also has bigger aspirations.
I've always thought Shin Min-Ah carried herself with calm grace regardless of what role she's playing in her diverse acting portfolio – whether it's the long suffering Eun-suk in her doomed relationship with Bok-gu up to the
very.last.depressing.end
of
A Time To Kill
, to her adorably cute Gumiho (or Mi-ho) in
My Girlfriend is a Nine Tailed Fox
, I'm pretty sure we can expect her to carry herself with aplomb in Aide despite the various maneuverings prevalent in the dog eat dog world of politics.