In the mythical land of Arth, various tribes vie for power and claim over Arthdal, one of the greatest ancient cities ever built. Arth is a realm home to heroes, where conquest and survival are the motifs of this fantasy world. 
Before kings and nations existed, dominant tribes of mankind (saram) joined together to form a union, giving rise to civilization and creating Arthdal (Aseudal) which would become the cornerstone of human advancement and technology. In the hopes to extend the alliance to the Neanthals (a superior race gifted with supernatural-like abilities),  Sanung Niruha (Kim Eui-Sung) leader of the Saenyeok tribe and Mihol (Jo Sung-Ha) leader of the Hae tribe, fail to persuade Raknruv, leader of the Neanthals who wants nothing to do with human ambition, affirming his position with his tribe's belief in maintaining a harmonious relationship with nature. 
Disgruntled but not anguished at the loss of a greater race joining forces with them, Sanung devises a plan to rid the earth of the Neanthals as they now pose as a threat. Needing the fertile land of the Neanthals for the purpose of cultivation, Sanung delivers Asa Hon (Choo Ja-Hyun) a translator between the two tribes as a necessary sacrifice, sending her off with gifts laced with a poisonous illness that will annihilate the Neanthals. Little does anyone know however, that Tagon, a young boy and Sanung's own son is the mastermind behind the plot on the Neanthals, aiding his father and winning the favour of warriors and tribesmen. Appointed as a war leader for his strategic planning, Tagon assembles his forces to hunt down any remaining Neanthals.
Appalled by the genocide she played a hand in, Asa Hon escapes with Ragazeu (Yoo Teo) a surviving Neantthal. The two fall in love and she gives brith to Igutu children (the name given to interracial children between a human and a Neanthal) born on the day an azure comet travels across the sky. As the hunt to eradicate Neanthals takes the course of several years, neither parent or child is safe and Ragazeu gives his life protecting them. Now a widow and separated from her oldest child, Asa Hon flees to Iark with her youngest, Eunseoum, to a place where the gods of Arth can't exercise their power. Tagon however, finds the Igutu child and spares its life.
After ten long years of searching for a way down the Black Cliff and with a sickly body, Asa Hon crosses the Sea of Tears, a volcanic and deadly no-man's land in order to bring Eunseoum to Iark. Upon arriving she dies with delirium, believing that her son is Armun incarnated, the founding god of Arthdal. 
Years have past, and Eunseoum (Song Joong-Ki) becomes an alienated member of the Wahan tribe. His only confidant and friend is Tanya (Kim Ji-Won) born on the same day as the azure comet and destined to become the Mother of her tribespeople. Their innocent world however, becomes threatened when Tagon (Jang Dong-Gun) and his forces arrive in Iark, laying claim on the land and taking the Wahan people as slave hostages. Vowing to exact revenge, Eunseoum journeys to Arthdal, possibly fulfilling a prophecy and becoming Tagon's greatest foe, more dangerous than Tagon's own father who detests him. 
Phew. Clearly the lengthiest description I have ever written but there are so so soo many players in this game of power and loads of lore! Where do I even begin? Song Joong-Ki? Since that satisfies my soul heh. The idea that Eunseoum is potentially a malevolent god incarnated on earth (sounds a lot like Zeus, no?) becomes basis for a lot of theories but there's facts presented in the drama that confuse the audience as to the existence of Armun or who he even is. As an Igutu, Eunseoum is considered a cursed being that the gods frown upon, which is why Asa Hon travels the perilous journey to Iark, in order to avoid the wrath of the Arth gods. 
Yet, it's also clear that he is most definitely the hero of this tale. Kanmoreu, the legendary horse of Armun, finds Eunseoum and lets him become his rider and that could mean one of two things. Eunseoum is in fact Armun incarnated, or a demigod of sorts. If he is Armun, then the changes that will happen to the innocent and naive Eunseoum will be drastic and fatal. His mixed blood is also a fascinating aspect to the story. The distinctive features of an Igutu being is its blood which runs purple, similar to how Neanthals have blue blood (literally purple and blue blood; they bleed different blood than humans). Purple eyes, lips, and claws that appear as a defensive instinct are features Eunseoum possesses. 
Thinking about this mythical character critically, Igutus and Neanthals seem extremely similar to gumihos and how they're conceived in Gu Family Book. My mind just kept going back to Choi Jin-Hyuk's character since I could see the similarities between him and Ragazeu. Another interesting aspect related to the mythology of Arth is that mankind is incapable of dreaming. Only those strongly connected spiritually to nature or the gods have the power to dream, and that's an ability Eunseoum has, which alienates him further. His birth is also considered a bad omen, since prophecy declares that one born on the same day as the azure comet will bring calamity and destruction.
Tagon on the other hand, I find a little more dissatisfying as a character if I'm being entirely honest. Since the first episode contains a time jump and goes back and forth slightly between the present and the past, we get a blurred idea of who Tagon truly is. Since we don't see Tagon's progression in becoming this cunning leader and warrior, we have to rely on the little the Writers have mapped out for us to follow. Young Tagon had glimpses of the things we're to assume the older version has, despite how underwhelming and anti-climatic Tagon seems to be in the present. 
The younger version was more chilling in the sense that he could go from being philosophical, and an admirer of nature to this boy who could quite easily plan and execute an entire genocide. I also wish we could see sparks to a little madness in him, to imply how power hungry he really is. Maybe the thirst for god-like power is yet to come but I hope Tagon becomes a bad guy we can admire or if the Writers can erase the definitive lines between good and evil, to simply give us an opportunistic man who knows he's smarter and better than the rest of them. He's definitely not spiteful as a character but he's also been somewhat boring during the first 4 episodes. And I can only recall one instance when the older Tagon actually gave me moment to pause and reassess the situation.
The men of the series aside, the really interesting characters happen to be the drama's women! Tanya and Taealha (Kim Ok-Bin) are respectively very different women with position and power. Taealha is a schemer and wants to aid and own the man who'll claim the most amount of power in Arth, at her side or even in the palm of her hand. She's a full fledged schemer and daughter of Mihol, knowing privilege and what it means to play political games, choosing sides wisely. 
Tanya on the other hand, comes from humble beginnings but has been told her entire life that she'll be a leader one day and has to carry a heavy burden determined by destiny. Their portrayals are interesting and the actresses have nailed their characters, breathing life to women rarely found in Sageuks. I personally want to see more of Taealha, because her confrontations and conversations with Tagon are tense and truly represent the power struggles occurring in Arth.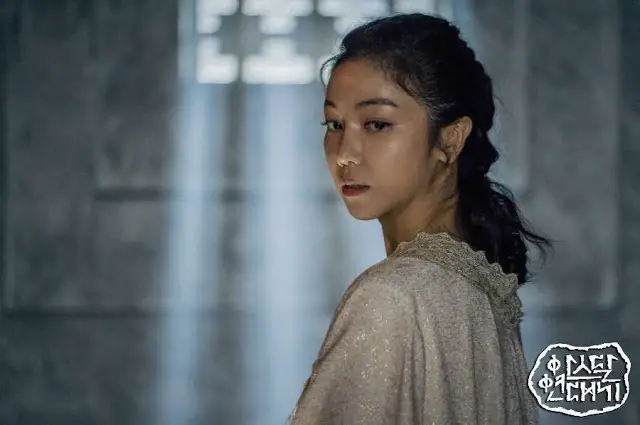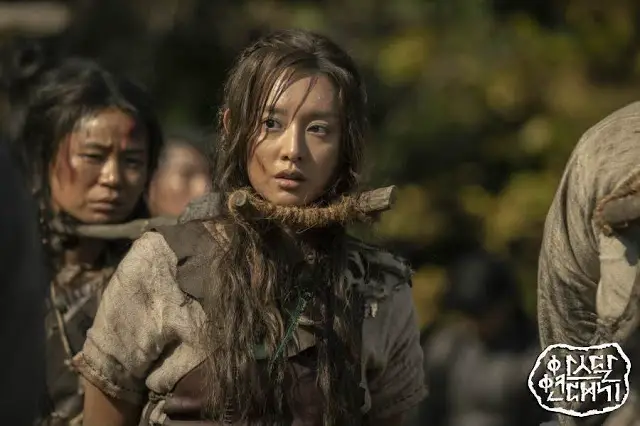 Now that we have plot and characters out of the way, we can finally move onto the technicalities of the show! As I watched this, I couldn't help but draw comparisons to Game of Thrones, and you could basically photoshop Tagon onto Jon Snow and vice versa but even the entire steady build-up of a storyline involving prophecy and destiny are quite similar. The ambitions this series has however, is quite different since it still feels like a Sageuk but more heavily centred on myth and tribal culture…we're extremely accustomed to Joseon dynasty dramas at this point, eh? 
It's definitely a fusion series, with references and influences drawn from a broader global context. Looking closely, the residence of Arthdal dress similarly to Sumerians and their devotion to their gods is also a homogeneity (if I had to narrow it down to an ancient civilization the Writers are drawing upon). The advances of Arthdal and it being a cultural hub with tribe leaders ravenous for domination seems like they're going for a Babylon feel or Tower of Babel impression, where they'll construct the greatest towers and landmarks, etc. 
There are however, anachronistic incidences that went over the Writers' heads. The attention to detail in regards to the mythology is commendable, but having scenes where tribe leaders form a union in order to construct a kingdom makes no sense if humankind has no notion of what a nation even is or how to conceptualize a kingdom. I also think there may be too much time spent on rituals, and I know it's an important part of tribal culture here but not necessarily central for plot progression. As a three part series, consisting of six episodes per part, there's a lot to cover and little time do so even with each episode clocking in at 80 mins. That being said, they need to move things along in order to thoroughly reveal the lore they've so intricately set in place since at this point, it's still highly convoluted.
I do see where they're coming from because the Asa tribe (White Mountain Tribe) are considered holier in the sense that they're spiritually connected to the gods. Considering that this is the tribe of Asa Hon and may play a major part into Tanya's spiritual abilities in the future, and has connections to the Wahan people, the Writers might be showing more detailed rituals to act as a plot device or creating a framework with deeper meaning. 
My only real qualm with this series is that I wish it had more drama or theatrics, especially in regards to revelations and episode endings. There's no sense of finality or suspenseful buildup which falls short on the entertaining scale. Sageuk is a genre that expertly knows how to form tension and dramatic, climatic endings (I'm thinking along the lines of Six Flying Dragons) but this series just ends on a flat note each time, simply doing its bit and then ending abruptly. I know the aim here is to go raw or go home, but a bit of theatrics and suspense could really amp up the viewer's feelings and interest. Going sleeker and darker would have rocked my world and wouldn't have me on the fence about this, but I can see where this might have been the stylistic choice the drama chose to convey with a specific tone that emotes certain feelings for viewers.
All things considered, Arthdal Chronicles is unlike anything Korean Dramas could have ever imagined to become, with mythical complexities and detailed characters. The intricacies are exhaustive at times but I watch on out of curiosity, even if certain story aspects are easy to predict outside of the mythological. I don't know where the show is headed or what to expect in the long run, and that may be a fun ride, although an uneasy one. 
Release Date: June 1, 2019 (Eng Sub available on Netflix)