Finally! A drama that sheds light on the challenges career women need to overcome to reach the top. Fighting Youth 
正青春 is a 47-episode workplace drama that focuses on the life of present day professional women and their growing importance in the work place – the new ideals, goals and pursuits they harbour in a fast changing Chinese society.
Lin Rui portrayed by actress Yin Tao is a sales director in a well known cosmetics company. Through her achievements, she is shortlisted by the company's French headquarters to replace current company boss Shu Wanting (actress Liu Min Tao). Not to be bested and unwilling to step down from her position, Shu Wanting cannily appoints Lin Rui's rival Fang Jing (Zuo Xiaoqing) as sales director to lead a second sales department. Caught in the middle is Lin Rui's newbie assistant Zhang Xiaoyu (Wu Jinyan), who despite the office politics manages to bloom both career wise and romantically.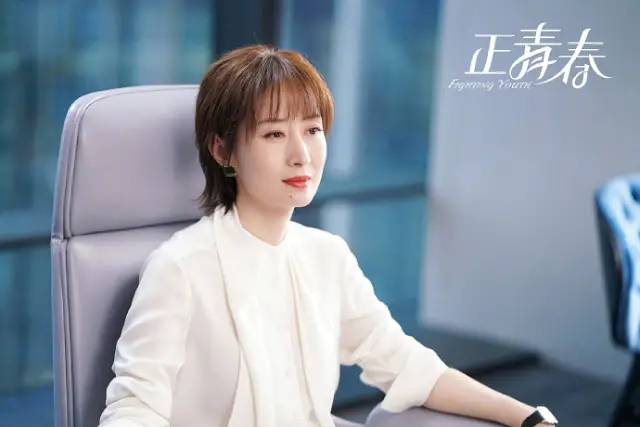 This here is a drama testifying that a woman's road to success is not an easy one as it is often littered with obstacles and stereotypes that must be overcome. For women dreaming of success in the workplace, chasing one's dream is a test of one's true mettle for the way to the top is often a hard one. 
Wu Jinyan has been busily putting her name on the map with yet another modern drama – her fourth now methinks, after shooting to fame with her portrayal in Story of Yanxi Palace. In a nod to her protege-mentor relationship in Yanxi Palace with actress Qin Lan who played the Empress, Wu Jinyan once again teams up with an older actress, Yin Tao, and serves as her new charge in Fighting Youth.  Hong Yao, Peter Ho, Wang Xiuzhu, Zhang Nan and Zhang Tao are also slated to play supporting roles in the drama.
Are you getting a slight Devil Wears Prada vibe from the visuals? Kinda expecting an Andrea "Andy" Sachs / Anne Hathaway sort of makeover for Xiaoyu (well certainly not as extreme) as she establishes herself in her role and in the company.
Release Date: January 24, 2021 primetime on Dragon TV, Zhejiang TV and Youku