As the producer of the historical romance drama Princess Silver 
白发, actress 
Zhang Meng
has been very forthcoming about the details regarding the series.  
Having been largely involved in the selection of the cast, Zhang Meng 
shares how 
Sophie Zhang Xueying
, 
Aarif Rahman
, 
Jing Chao
 and
 Leo Luo Yunxi
 were casted.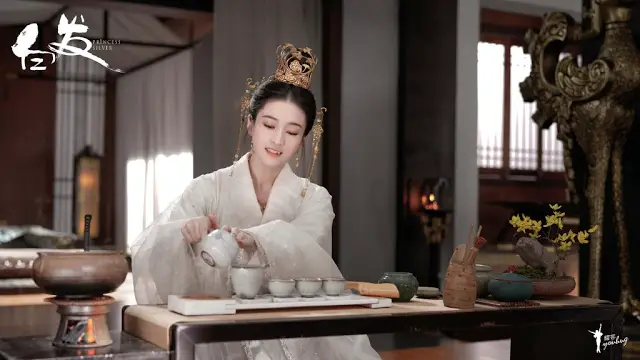 Zhang Meng hoped that Princess Silver could be relatable to a younger audience so she wanted a young and brilliant actress to play the female lead. 
The first person she thought of was Sophie Zhang. Zhang Meng had worked with Sophie before in
The Romance of the Condor Heroes
back in 2014. At sixteen years old, Sophie's acting caught the eye of Zhang Meng, which she praised as being very natural. Most importantly, Sophie hasn't been in a costume drama for quite some time as she has done a lot of youth films, so Zhang Meng was especially excited to see her in a costume drama. As a first-time producer, 
Zhang Meng didn't want to do the same thing that everybody else was doing as she really wanted to 
bring out the versatility in her actors. The end result speaks for itself.  Sophie is, as Zhang Meng expected, the perfect Rongle.
Zheng Meng had an idea of how leading man Wu You should be: a cold, arrogant and domineering man who is handsome, masculine and also has a soft side to him.  Zhang Meng chose Aarif Rahman as she feels Aarif can pull off Wu You. Aarif doesn't seem approachable at first glance, but gradually, he gives off a sense of security. Zhang Meng also says that Aarif is a good actor who is also very dedicated.  He would come to set everyday without a script in hand as he had already memorized his lines at home.  He also doesn't use a double for his martial arts sequences.  
Zhang Meng admits that the role of Fu Chou would be difficult to portray since he is supposed to be elegant and gentle on the outside, but strategic and calculating on the inside. He seems ordinary, but he is a man filled with vengeance. Zhang Meng coincidentally saw a spy/war drama with Jing Chao in it and thought that he acted well and gave his character a lot of depth. 
Zhang Meng recalls that she attended an award ceremony where she and Jing Chao were both receiving an award. 
It was then that Zhang Meng pitched the idea of tapping Jing Chao for the role of Fu Chou and the rest, as they say, is history.  
The role of Rong Qi was arguably the most difficult to cast, mainly because it had several requirements; Rong Qi has to be handsome, the actor who plays him must be skillful and also youthful.  Rong Qi is a very popular book character and to get it wrong would be disastrous as they would be scolded endlessly by fans.
Many actors wanted to play Rong Qi but none of them fit so Zhang Meng ended up rejecting them.  One day, she thought of Luo Yunxi because 
he left a deep impression on her as the young Wallace Chung in the 2015 drama
My Sunshine
.
When it came to casting him for Princess Silver, Zhang Meng decided on a whim to let Luo Yunxi choose his own role without telling him that she intended for him to play Rong Qi. Because Rong Qi was too important a character, Zhang Meng felt that it was important for the actor to be fully committed. 
Luo Yunxi actually ended up picking Rong Qi for himself.  Zhang Meng was pleasantly surprised because while the character is great, it had the least amount of scenes among the three male leads. 
When Zhang Meng asked the reason behind his decision, Luo Yunxi answered that he liked the character and could go all out to play Rong Qi.
At the end of the day, Zhang Meng feels that she has achieved her vision and feels satisfied with her choices. It seems now that the show is on air, it is up to the audience to decide.