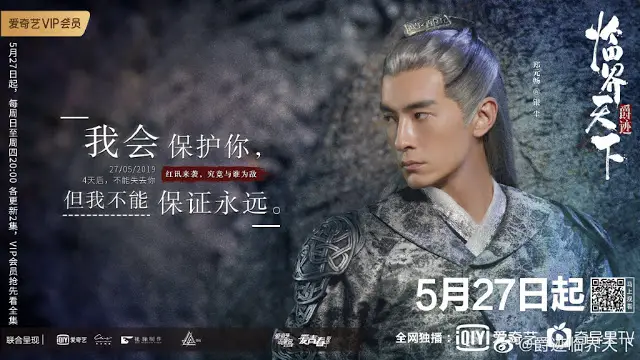 The iQIYI drama L.O.R.D. Critical World 
爵迹临界天下
 is of course based on the same
Guo Jingming
郭敬明 novel
. 
Not sure how this adaptation will differ from the movie, so y'all will just have to wait and see. 
The

48 

episode series 
chronicles the adventures of a young man and his mentor to protect the nation of Xuan Zang.
Qi Ling is an ordinary man from a small village who by chance becomes a disciple of Yin Chen, one of the seven spiritual lord protectors of Xuan Zang. As Qi Ling delves deeper into the world of magic, he discovers that all is not well, with the nation seething in turmoil underneath its deceivingly peaceful surface. All signs indicate that all hell is about to break loose, and so under the tutelage of his mentor 
Yin Chen
 and the help of the other dukes and disciples, Qi Ling begins his extraordinary journey. 
Interested? Let's now take a look at the cast who'll be bringing the novel to life  –
The good looking silver haired fox is Joe Cheng who aptly plays Yin Chen (Silver), the duke to the 7th degree. Heh, who would have thought he'd be able to rock long gray/silvery hair a la Legolas? I really think the look suits him though ! Such a huge upgrade from his floppy bang(ed) days in It Started With A Kiss!
Zhang Ming En plays Qi Ling, the Disciple to the 7th degree
Maggie Huang plays Shen Yin, Disciple to the 2nd degree
Ji Chen plays Yang Ze
Xiong Naijin plays Lotus, Disciple to the 5th degree
Dean Wang Chuang plays You Ming, duke to the 2nd degree
Zhu Jie as Feng Hun, duke to the 5th degree, brother to Lotus
Shane Xiao Yan is You Hua, Disciple to the 6th degree and daughter of the 6th duke
Zhao Yi as Lei Ya (I'm assuming her role is similar to the movie's Thalia), duke to the 4th degree
He Longlong as Neon, Disciple to the 4th degree
Liu Jianyu as Qi La, duke to the 3rd degree
The pictures are definitely a visual feast with the costumes and long hair giving off LoTR Elven vibes don't they? I'm certainly intrigued! 
Release Date: May 27, 2019 iQIYI