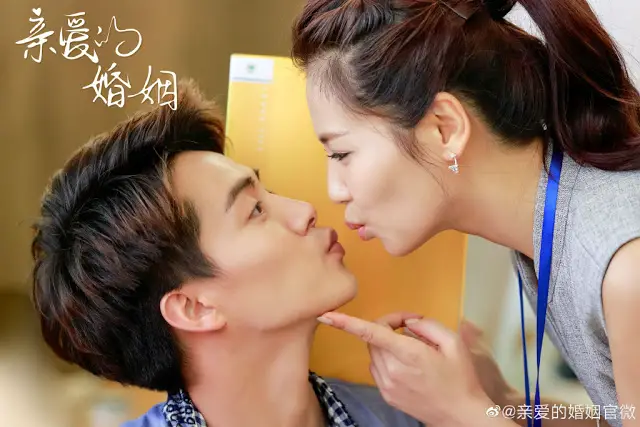 After being shelved for four years, romance drama Dear Marriage 亲爱的婚姻 finally aired tonight on Mango TV. It is also scheduled for a primetime broadcast starting May 24 on Anhui TV. With an age difference of 8 years in real life, 
Liu Tao
(Ode to Joy) and Ma Tianyu (Secret of the Three Kingdoms) portray the older woman and younger man in the drama. 
Their characters Wang Keke and Li Xiaojun bicker over a house deed that leads to their marriage falling apart. Wang Keke becomes Li Xiaojun's boss which becomes another test to their relationship. 
Back when they were still filming the drama,
Liu Tao revealed that she was very happy to be able to work with Ma Tianyu. They both share the same birthday on July 12, prompting the staff to call them the 712 team. They also 
share similar personality traits of the 
Cancer zodiac. Liu Tao said that she really 
treated Ma Tianyu as her 'other half' while Ma Tianyu referred to her as his 'wife'.
Apparently, Liu Tao felt pressure from having to act alongside Ma Tianyu. It was kind of funny when Ma Tianyu turned to Liu Tao with a doubtful look on his face since she's a top actress in her own right. Liu Tao replied that what she said is true since Ma Tianyu would look at her with those innocent eyes during their scenes.  He's influenced her to be cute as well. 
Liu Tao and Ma Tianyu look great chemistry together and seeing this pairing puts a smile on my face. Hopefully, you guys also feel the same.