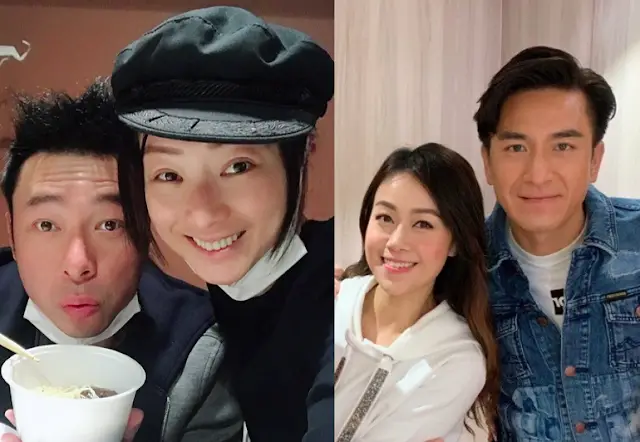 Finally,
Sammi Cheng
and
Kenneth Ma
have broken their silence on the affair of their respective partners. Following the media frenzy since the story broke on Tuesday (April 16),
Andy Hui
's wife, Sammi Cheng took to her Instagram account this afternoon to address the scandal. In her post, the singer said that this (the scandal), was an important lesson in their marriage.

"The important thing is to understand the true meaning of marriage. Happiness is not always an easy ride. There are trials that we go through, highs and lows which serve to deepen the relationship between a couple. Walk into each other's hearts, face each other's weaknesses together, don't give up on yourself, don't give up on each other, and raise each other up. I believe these experiences and lessons will help us get back on the right track", writes Sammi.
She goes on to say that having held hands in prayer helped them during this difficult time and that today, the burden seems to be a lot lighter. Finally, the singer also requests the media to leave her ageing parents in peace and not to ask for any more interviews.
Sammi does not directly say what will happen to her marriage in the future but that she will only move forward after this. 
What's your take on this? 
Will she take him back?
Meanwhile,
Kenneth Ma
,
Jacqueline Wong
's boyfriend of three years has also released a statement regarding the affair. After two days of keeping silent on the topic, the actor said in an interview that after news of the cheating broke, his initial anger quickly dissipated and that he was more concerned and worried about everyone affected by the scandal. For anyone hoping for some rather dramatic words from the boyfriend cheated on, well, no such luck on that end as he only had sensible words to say about the actress.
"She (Jacqueline) knows she made a mistake, and I know that she really wants to come out to speak with everyone, but the company is concerned that she is still very fragile and will say something wrong". He goes on to add (quite compassionately IMHO), that she is "still quite young and has yet a long road to walk in the future" and that he hopes everyone can give her some space and time. Like Sammi, the actor also appealed to the media to stop harassing his family, especially his mother for comments about him as the reporters scared her and which might have caused her to say the wrong things.
Interestingly though, when asked about whether he's broken up with the actress – an answer everyone is quite interested to know, the actor only said he has nothing to comment about that. Quite sweet of Kenneth actually to somehow still attempt to shield Jacqueline from the media storm roused by her scandal with Andy Hui.