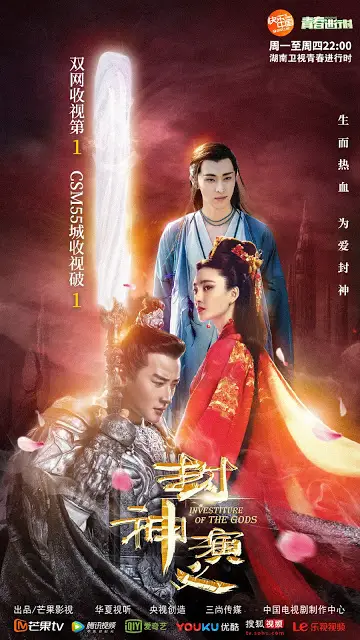 CSM55 Cities + Online
It's an exciting week in c-dramaland if only for the number of finales and premieres. Catching everyone by surprise is Investiture of the Gods which has broken past 1% in CSM55 ratings on its first week! For a show that's being flayed on user-rated site Douban and airs at the less-watched late evening slot, it's no easy feat.
CSM55 Cities 
*The above are mostly primetime shows that air at 19:30 while those highlighted in blue air at 22:00. **Rankings are overall rankings across the shows airing on the same night, regardless of air time. *** Reruns are not included. **** Dramas that air on CCTV (the state television broadcaster in China) are not included. ***** CSM55Cities and CSMNationwide are common tv metrics. 
Web Rankings 
Top Dramas (7-Day)  
Top Celebrities (7-Day) 
*View count is based on the six streaming sites (Youku, iQiyi, Tencent, LeTV, Sohu, Mango) 
** Star popularity is based on view count, weibo, douban, tieba, search results, etc *** iQiYi and Youku no longer provide view count.