Goodbye My Princess 東宮 has ended and contrary to previous speculations that it might have two endings, the drama only had one and I have to say that it might have left more than a few viewers in tears. Were they happy tears or sad tears? 
Before I go on, spoiler alert!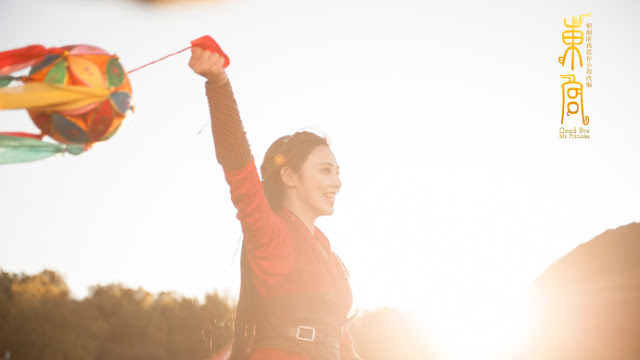 Before the final episode, Xiao Feng
, played by
 Peng Xiaoran
, already jumped off the city gates triggering the return of 
Li Chengyin's memories, played by 
Chen Xingxu
. He coughs out a mouthful of blood from shock, faints and wakes up to the news that they are at war. 
What really got to me were the show's final moments in the desert when Xiao Feng puts herself between the two armies, her brother on one side and her lover on the other
. 
She pleads with the two of them for peace and calls Li Chengyin by the name Gu Xiaowu, finally admitting to him that he was the one and only man that she ever loved. 
With a sword held to her neck, she asks Li Chengyin to promise her to fulfill her two remaining wishes.  One was that Li Chengyin's army would never set foot in Xizhou.  He agrees while begging Xiao Feng to put the sword down. He says that if she were to die, he would die with her. She smiles and says that her second wish is for Li Chengyin to live well and having said that, she slits her own throat. 
Her death scene was a bit overly dramatic with blood spraying everywhere but somewhat forgivable as it certainly had emotions running high throughout the scene.   
Chen Xingxu's portrayal was very, very convincing as he yelled in despair, wept and cried over her dead body while calling out her name. Someone was definitely cutting onions beside me as it was extremely hard not to cry along. 
After all the foul things Li Chengyin did to Xiao Feng, he still loved her dearly and it shines through at this particular moment.  Seeing him suffer as he did almost made me want to forgive the guy for all the stuff he put her through. Chen Xingxu even lost his voice when he filmed this as he had to constantly shout for Xiao Feng and cry a lot. The actor shared that he really almost fainted for a moment as he could no longer breathe. He also had help from the crew and Peng Xiaoran to snap him out of character.  
Li Chengyin eventually becomes emperor, does not have any children and leads a lonely existence, perhaps as a way to atone for his mistakes. 
In the last scene, we see an old Li Chengyin, free from his royal obligations and realizing too late that what he what he had wanted all along was Xiao Feng.  Now that she's gone, he traverses the desert alone, ready to be with her again.  
Goodbye My Princess is probably one of the best tragic dramas out there right now and despite the hiccups, it did not disappoint and certainly satisfied fans who wanted a bad ending. Chen Xingxu and Peng Xiaoran worked really well together.  Extra points for Chen Xingxu as you can really tell he didn't just played Li Chengyin, at least for me, he WAS Li Chengyin.  What did you guys think? Did the ending meet your expectations?