Fans will be excited to know that actress Bai Lu has started working on a new project entitled Jiu Liu Overlord 
九流霸主 
which will hopefully see her back in the small screens soon. The actress, who is currently kicking some arse in
The Legends
, earned much praise in her role as a strong female character who can hold her own in a fight (erm.. she's a sword wielding, butt kicking, "you don't want to mess with me" type of woman) in the series. 
Reprising her strong female role from The Legends, the actress plays the character of the Jiu Liu overlord Long Aoyi. She will be starring opposite actor Leon Lai Yi who plays the intelligent and irresistably good looking, "allergic to female hormones" Li Qingliu in this historical drama set during the late Tang dynasty period. The two main characters are brought together to solve a case.
After playing supporting roles in popular dramas like Eternal Love, Legend of Fuyao and The Flame's Daughter, Jiu Liu Overlord i

s Leon Lai Yi's first time playing the ancient drama lead. Let's hope this is the start of something new in his career.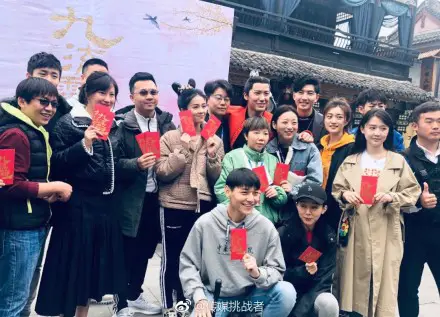 Jiu Liu Overlord

held its boot ceremony

 yesterday, March 27 at the Hengdian World Studios. From the snaps the actress shared on her Weibo account, it looks like her fans are mighty excited as well with several devoted fans coming out to support her.