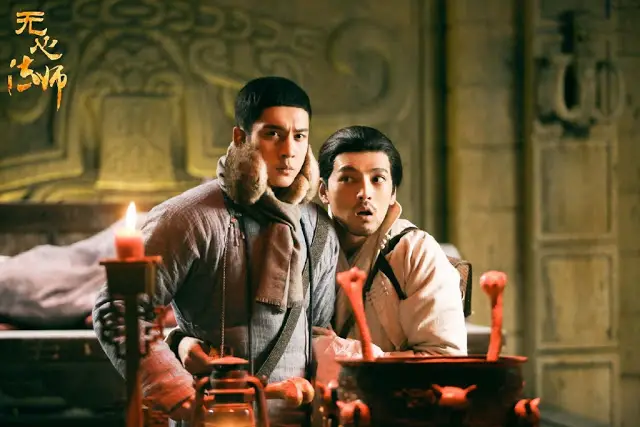 When Monster Killer first aired back in 2015, it gained a huge following and spawned a sequel in 2017. Fans can't seem to get enough as a third series is on its way. 
Wu Xin: The Monster Killer 3
无心法师3 has dropped a tiny glimpse of the drama through a picture of Elvis Han, Chen Yao and Sui Yongliang huddling up on the set.
 Many wonder whether
Mike Angelo
and
Alan Wang Yanlin 
will also be returning to the series. 
As the drama is based on the novels by Ni Luo, one would expect a certain consistency between the adaptation and the novel.  Monster Killer 1 and 2 took place during the Republican Era even though parts about the 
Cultural Revolution that were in the novel were excluded from the story. 
Monster Killer 3 completely deviates from the novel in terms of timelines. It is supposed to jump forward in time to modern China, opening Wu Xin's eyes to the digital age. Instead, it is set in 
the Tang Dynasty and feels like a prequel instead of a third installment.  
The change is due to the National Radio and Television Administration's (NRTA) 
stance against ghost stories in modern dramas. The immortal Wu Xin will undoubtedly battle ghosts in his new adventure so it seemed logical for the production to set his story in a different time period to avoid censorship. 
I
t is worth mentioning that in the novels, there is no story involving the Tang Dynasty so Monster Killer 3 will require a capable screenwriter to come up with a good plot.  Fans of the series will have to wait and see if it can live up to expectations.