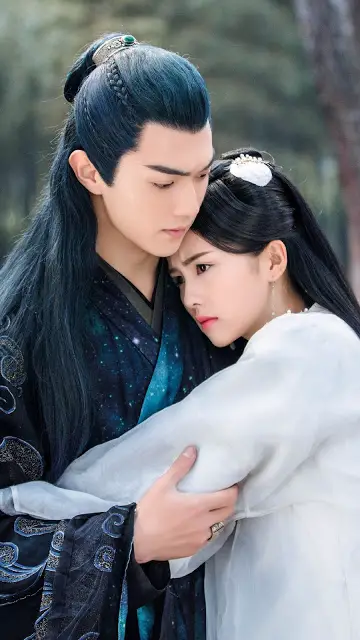 Very rarely are revenge plots neither heavy nor angsty especially when there's romance involved. I've caught up until episode 18 of 
The Legends 招摇
 and to my surprise, 
what starts out as your ordinary fantasy drama ends up being a light and unconventional romance. The story builds on the heroine's determination to kill the man that she thinks betrayed her, e
xcept that he didn't. He's so in love with her that every attempt she makes to get close to him is like seeing a dance of how two people fall in love. 
While I can't say that the drama as a whole is keeping me engaged, the scenes with 
Bai Lu
and
Xu Kai
are heart flutteringly sweet. Zhao Yao may be trying to kill Li Chenlan most of the time but least, he's aware of it. It's amusing really to see so many fails and I really hope she doesn't cause irreparable damage. Li Chenlan is too precious that I
wouldn't mind some payback angst when Zhao Yao falls for him too.
Zhao Yao's first attempt at revenge fails when Mo Qing is no longer the same man he was before. He has gained his powers back and rules Wan Lu Men as Li Chenlan, the son of the demon king. 
Poor guy has no idea what hit him when an invisible Zhao Yao tries to stab him. 
Zhao Yao gets Li Chenlan to carry her on his back. Keep those claws away girl, this moment is supposed to be sweet. 
Nope, that won't work either. 
This scene had me worried. The man is seriously injured and agrees to spar with Zhao Yao just to make her happy. I wish we can get to the part where she learns the truth sooner. 
Zhao Yao gets another chance when Li Chenlan had his back facing her. 
She has a change of heart and our lover boy smiles. He must be so happy simply knowing that she decided to spare his life… this time ?.