Just Dance is Korean drama based on the 2017 documentary Just Dance Girls. The story is somewhat of an oxymoron because it's both ordinary and unique. The episodes breeze by and at some point the story tugs on your heartstrings. This drama reminds me a lot of Girls' Generation 1979 and a little of Hot Young Bloods (minus the violence). 

Plot Summary: The story follows eight girls, who attend Geoje Girl Vocational High School. They are in their final year and starting to face reality of life after high school. The hodgepodge of girls all join the school's ballroom dance club. 
With this experience they leave high school on a high note and with something memorable to see them off. 
Rating: Pretty Good (4/5)
An interesting and bell balanced drama.

The notable quality of 
Just Dance
 are the hefty themes it serves up. Most of them shuffle themselves into three main ones. The first theme explores the concept of how big issues, such as big business, politics, ect. trickles down and affects the lives of ordinary people. In this story, it's the shipyard that employs a large percentage of the town's citizens. Once the company makes significant changes, it affects each employee's homelife. A specific example of this is Si-eun's (
Park Se-wan)
 family. Both her parents worked at the shipyard, but sadly her father died from a work related incident. 
Now with only one income, her family is struggling to make ends meet. This changes small details in Si-euns life. For example, she can't replace worn out clothes – she overhears her friends gossip about it. Because of the financially strain, their home is filled with arguments and tension. Her mother's new cynicism rebuffs Si-euns dreams of going to college.
The second theme, shows how preparation (or lack of) for life after high school is a product of a students homelife: the more dysfunctional the family dynamic, the worse their prospects are. This ranges from disapproving mothers, abandonment of parents, to hostile parents. Their personal circumstances gradually reveal themselves as the story glides along. It's a bit of "ah-ha" moment because it explains some of their behavior and quirks.
The contrast is Kwon Seung-chan (Jang Dong-yoon), who's father works in shipyards  corporate management office. They are decently well off and his homelife is safe, stable, and theres a clear pathway for him to attend college. In general is he more relaxed than the other characters. On a side note, before his mother passed away, she taught ballroom dancing – hence his surprising skill. 

The third theme is a little plot twist. The girls' passion and energy for dancing is fueled by negative emotions. For example, frustration and sadness. Not to say they don't have fun – it just isn't the emotion that motivates them. The perfect example of this concept, is a conversation between Si-eun and Hay-jin (Lee Joo-young). It takes place in episode four, while the two girls are riding the same bus (they are not on good terms at this point). 
Si-eun: Why do you dance? You're not dancing because you want to, right? 
Hay-jin: People are crappy. I wish everyone would just die. But unless it's the end of the world, that won't happen. I just want to forget about everything. but… I can't unless I crack my head and get amnesia. But when I dance, it's very hard and tiring. Then I don't think about anything. 
Si-eun: (mutters) What is she walking about? 
Hay-jin: I guess your life isn't crappy. 
Inspired by the conversation, Si-eun finds her passion to dance. Shoes off, headphones on, she dances by herself at the end of the pier, with the setting sun as beautiful backdrop. Seung-chan happens to pass by and joins her – it's one of the best scenes in the drama.
As for the characters, in general they are well written and executed. A favorite aspect for me is how the maturity or immaturity levels of the a character correlates with their age. The adults acted like adults and the teenagers like teenagers. Below is a teeny overview of two standout characters: Kim Si-eun and Park Hye-jin. 

Kim Si-eun is introduced as an outcast, her only two friends are also outcast, and they don't
particularly like each other. One reason for this may be is because Si-eun is a tad self-absorbed, melancholy and a bit deceptive. These attributes are all subtle, but add up and causes drama. She also has fantastic qualities, such as her ability to make decisions for herself. An unexpected curveball is her love story. Initially she is in a relationship with a much older guy and for various reasons breaks up with him. In swoops Kwon Seung-chan, via a bumpy road they get close, and a non-perfect romance blossoms.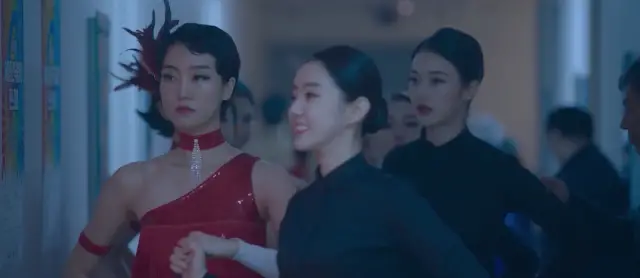 Park Hye-jin is the underdog that brought the whole show together. As you get to know her, you see how miserable her life is. Part from the dance club, things at home continue to worsen – it's heartbreaking. Towards the end, it is only only the dance teacher (Kim Kap-soo) who advocates for her. She refuses to receive help once the club disbands. Hopefully the comfort she found in the dance club will help guide her to a brighter future. On a side note – I wanted her and Lee Kyu-ho (Jang Sung-bum) to get together, but alas, they did not. Lee Joo-young did such a great job, I've become a fan and swiftly watched Live. 

All in all, this drama is gem. It provides food for thought – in a lighthearted way.
---
Thanks for reading this review! For more drama musings, be sure to stop by my blog.