Campus dramas have always been one of the most popular themes among viewers.  It's not surprising since the innocence of pure love, youthful energy, camaraderie and light hearted nature of these shows make them fun to watch.  In case I piqued your curiosity, here are some Chinese dramas you guys might like.
Yang Yang
and
Zheng Shuang
starred in
Love O2O
微微一笑很傾城, a drama about love, school and online games based on a novel by Gu Man.  Yang Yang's popularity skyrocketed because of this series and many a girl have fallen for his character, Xiao Nai.  Zheng Shuang's character Bei Weiwei was equally lovable, having both beauty and brains.  
A Love So Beautiful
致我们单纯的小美好 is a story of how opposites attract based on the novel To: Our Pure Little Beauty by Zhao Qianqian. 
Hu Yitian
plays smart and handsome Jiang Chen while
Shen Yue
plays the artistic and sunny Chen Xiaoxi.  Being the complete opposite of each other, in terms of height and skills, it was great to watch the couple work out their everyday lives and the drama quickly gained a lot of fans.  
Liu Yuran's popularity rose significantly after his role in With You 
遇见最好的我们
 and his star power has been known as one of the best among the new generation actors.  He starred together with
Tan Songyun
and the show has been voted as one of the top 10 campus dramas. The story is based on a novel by August Chang'An. 
My Huckleberry Friends
你好舊時光
 is a sister production from the people who made The Best Of Us.  It tells the story of students played by Li Landy and Steven Zhang who along with their friends tackle the daily pressures of being young. 
The story is also based on a novel by August Chang'An.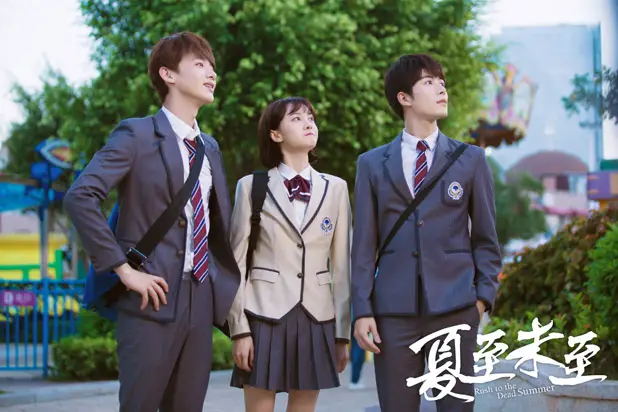 Rush To The Dead Summer
夏至未至
 is a stroll down memory lane for most people as the school uniforms and campus scenes lead to some nostalgic moments.  It's based on the novel by Guo Jingming and tells the story of a group of friends played by Chen Xuedong, Zheng Shuang and Bai Jingting.  
Suddenly This Summer
忽而今夏 may not be as famous as the previous ones but it has been well received by viewers. Based on a novel Ming Qian Yu Hou, it stars Bai Yu as Zhang Yuan and Bu Guanjin as He Luo. The drama gives the viewers a glimpse of how things are in long distance relationships.
Compared to the previous dramas,
Stand By Me
一起同过窗
 isn't as sweet or relaxed.  The main characters are not the usual idols that star in campus dramas.  Even the story isn't really romantic.  
However, Stand By Me brings to the audience all the nostalgia of university life like club activities, course selection, skipping class and working to pay dormitory rent.  It may not be as beautiful or
glamorous, but this series deals more with real life that normal university students experience.  It is also the only drama on this list that is not adapted from a novel. 
When We Were Young
人不彪悍枉少年 is set in 1996 and tells the story of a group of high school students who face the ups and downs of life together.  It is adapted from the novel of the same name by Yi Shushan.  Wan Peng plays Yang Xi who is a school athlete.  Zhang Yao is Li Yu who is Yang Xi's childhood friend.  Neo Hou is Hua Biao, the gifted and rash transfer student.  
Unrequited Love
暗戀橘生淮南 starring Zhuyan Manzi and Zhao Shunran is adapted from the novel of the same name by August Chang'an.  Unrequited Love is part of her trilogy of novels which include With You and My Huckleberry Friends.  In December 2018, it was announced that another version has started filming. 
Hu Bingbing
will play Luo Zhi while
Hu Yitian
will play her crush, Huai Nan whom she follows around.  
Put Your Head On My Shoulder
致我們暖暖的小時光 is adapted from the novel by Zhao Qianqian and is expected to be aired this year.  It is the sister production of A Love So Beautiful and stars Xing Fei and Lin Yi.  It follows two people's sweet and funny love story.