Half a Lifelong Romance 情深缘起
,
formerly Eighteen Springs 半生缘, is a 35-episode Chinese drama based on the famous novel
Half a Lifelong Romance
by
Eileen Chang
. Two sisters struggle against societies expectations, telling a heart-wrenching tale of romance in twentieth century Shanghai. 
As the Gu family loses its glory, Gu Manzhen (
Jiang Xin
) gets hired as an assistant in a factory, while her sister Gu Manlu (
Carina Lau
) becomes a hostess in a nightclub. 
Shen Shijun (
Joe Cheng
) is the colleague and true love of Gu Manzhen. Despite being engaged to Shi Cuizhi (
Dong Yue
), Shen Shijun still chooses to form a forbidden relationship with Gu Manzhen in the name of love. Shi Cuizhi on the other hand, falls in love with Shen Shijun's good friend, Xu Shuhui (
Zou Tingwei
).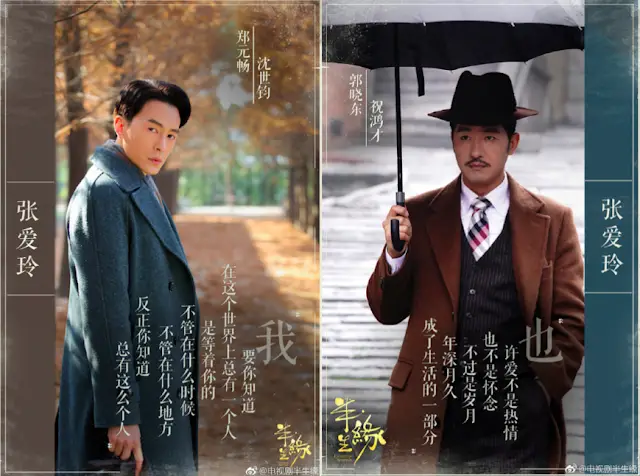 Gu Manlu eventually marries the cunning and manipulative Zhu Hongcai (
Guo Xiaodong
) and leaves her old life to start anew and become a respectable housewife, but she discovers how her husband had violated her sister. 
Years pass as Gu Manzhen and Shen Shijun once again meet both wedded to someone else. Yet, the two still remember their love from almost a decade ago.
While writing this summary of Half a Lifelong Romance, I think I can smell an Austen-type love story, with our love interests fighting against societal standards but with the tragedy dialled up tenfold. Maybe this type of plot is what made readers consider the novel to be a modern classic. 
As the story's punchline goes, "Life is too short to be too late," (quoted from
Eileen Chang
) I feel like aside from love tips, I will pick up some life lessons along the way.
Release date: November 20, 2020 Tencent, Youku, iQIYI (two episodes every Friday, Saturday, Sunday and Monday at 8pm, 8 episodes released in advance for VIP)