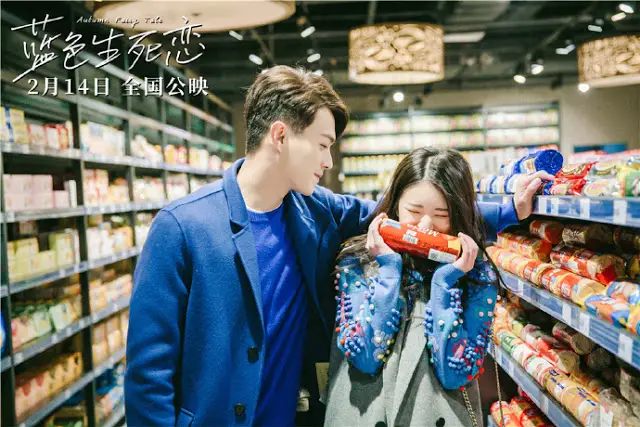 Autumn Fairy Tale 蓝色生死恋 is a Chinese movie adaptation of the hit Korean drama series Autumn In My Heart starring Song Hye Kyo, Song Seung Heon and Won Bin almost twenty years ago. The remake stars Xu Kai, Zhao Lusi, Jiao Rui and Liang Jingxian.  Rocket Girls member Meng Meiqi will have a guest appearance as well.  
If the movie is anything like the TV series, moviegoers are in for an emotional rollercoaster ride and should prepare… oh i don't know… around 3 boxes of tissues? 
The original story is about young love.  
Two baby girls get accidentally switched at birth. One ends up in a well to do family wherein she had a brother while the other winds up with a poor mother who runs a dilapidated cafe. After an accident, it is revealed that there was a mix up and after a few heart wrenching scenes, both girls go back to their rightful families.  
Time goes by but the brother has never stopped thinking about the stranger that used to be his sister and vice versa.  They meet a few years later, all grown up, but the "brother" now has a fiancee.  The ex sister has another boy trying to woo her.  This results in a messy quadrangle through the later parts of the series.  
Here's the thing about adapting a Korean series into a Chinese movie.  Obviously, some scenes have to be edited for purposes of different cultures and all that but the most important question is: Will the movie be able to capture the intensity and the timelessness of the classic k-drama series? 
The series lasts well over 10 hours if you watch it back to back.  A movie, on the other hand is just a couple of hours long at best.  Suffice to say, it's not an easy task to condense all those feelings.  
Wang Caitao
, the director of the movie, has said that he attempted to reproduce the romantic
plot lines on the big screen and that he
 retained many of the original scenes and dialogue.  Personally, I'm a bit skeptical but I'll still give the movie a chance.  After all, who doesn't love a good cry, right?