Behind The Scenes is a 46-episode drama series starring Zhou Dongyu, Luo Jin, Wayne Liu Ruilin, Wu Lipeng, Wang Xiao, Zhong Danni and Tse Kwan-ho. Kitty Zhang and Chen Shu make special appearances. 
The star-studded cast will be playing the parts of entertainment industry insiders, crew members, managers and celebrities. 
Luo Jin expressed that original Chinese productions are the most meaningful and shared the hope that it can spread to other countries. 
Behind the Scenes drives the idea of creating an original show. 
It follows a mass communication student and a famous producer as they strive to reach their dreams despite the many obstacles in their way.  How far can their will to succeed take them? 
Starting off in the wrong foot, 
Bui Xiaogu (Zhou Dongyu) realizes that the man whom she always admired as a student and has now gotten a chance to work with is actually difficult and unreasonable to work for. However, she begins to see him in a new light when his actions show a different side to him.  
Release Date: January 5, 2019 Dragon TV, Zhejiang TV (two episodes daily at 7:30pm), Youku (episodes at 10pm) 
Zhou Dongyu
as Bu Xiaogu.
Wayne Liu Ruilin as Xu Tianze.  
Zhong Danni as Xing Zi.  
Wu Lipeng as Kai Wen. 
Wang Xiao as Sun Tingyuan.  
Tse Kwan-Ho as Xu Changye.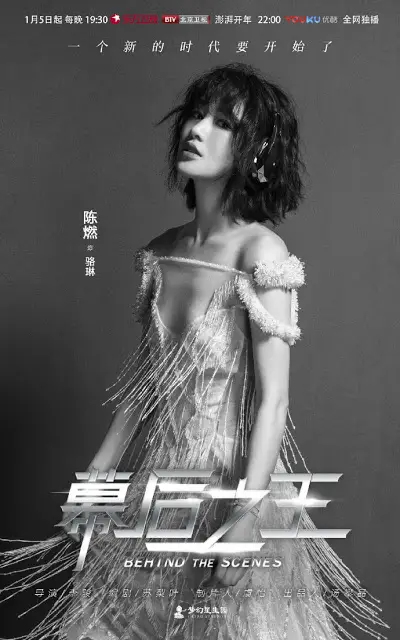 Zhang Yuqi as Xin Huimei. 
Chen Shu as Yu Hailun.