I go through phases where I spend months switching between American television and Chinese dramas. Having just spent the last six months catching up on Chinese dramas from the past few years, I can't help but notice a few young male artists that need to be on everyone's watchlist.
1. Wu Lei
I first saw him as the simple Fei Liu in
Nirvana in Fire
. It's hard to steal a scene when you have next to zero lines, but he had great chemistry with Hu Ge and definitely draws your attention in any scene that has him. 
I next saw him as the lead role in
Battle Through the Heavens
. The drama faced a lot of criticisms and I think the plot line and character development could definitely be improved. Wu Lei does a decent job playing the hero trying to prove himself and avenge his family's honor. I have to remind myself that he is only 18 years old, so I don't think the failure of the drama is his fault. Given that he is only 18 years old, I expect a lot more to come from him, so I would definitely keep an eye out.
2. Liu Haoran
Liu Haoran played the lead role in
Nirvana in Fire 2
, next to Huang Xiao Ming. I had no idea who he was and had it not been for the fact I loved Nirvana in Fire and Huang Xiao Ming, 
I would not have bothered watching the sequel. However, I was blown away by his portrayal as Xiao Ping Jing.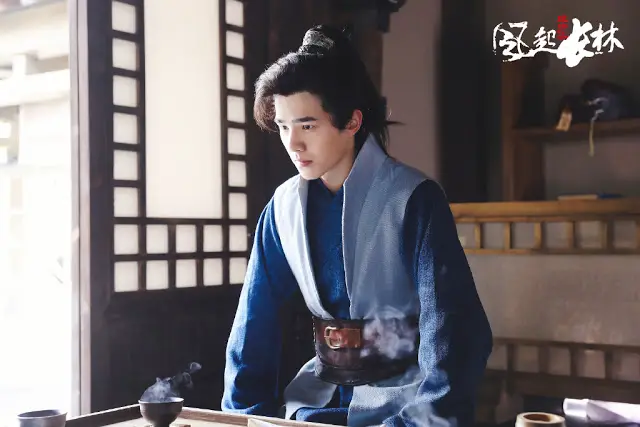 He starts the show as a young and carefree wanderer who grew up under the protection and guidance of his older brother but matures into a great general and leader. His character undergoes a lot of changes and development, but I thought he was convincing from beginning to end. He also holds his own against the more seasoned Huang Xiao Ming. At age 21, this is a great start to a promising career. Fun fact: He is good friends with Wu Lei.
3. Jin Han
Rounding out the list is Jin Han. He is the oldest of the three (at only age 25!), but I think he has the most potential. He just starred in
Our Glamorous Time
, where he plays the cool, calm and collected ex-military special agent that returns home after the death of his older brother to save his family business and care for his aging father. 
Through the process, he wins the heart and love of the talented and ambitious fashion designer, portrayed by Zhao Li Ying, and defeats his business competitors. I am sure his antics captured the hearts of many viewers. He was sincere and devoted to Lin Qian, but calculated against his enemies. 
It took me awhile to recognize him, but he also played the evil Zhao Xi Feng in
Princess Agents
. It is usually easier to go from playing the good guy to playing the bad guy, but much harder to be equally convincing as a bad guy first and then a good guy. This is the main primary reason why I think he has the most potential. He also sings one of the songs in Our Glamorous Time and is really good! Good looks, acting and singing skills? Sounds like a recipe for success. 
Do you have others in mind that didn't make the list? Were you surprised by my choices? Please comment below – I would love to hear other input.