Dicky Cheung
 has been bald for most of his career which started when he joined a singing competition to enter showbiz 34 years ago. He recently talked about the reason for his unchanging look in the past 22 years. 
Dicky Cheung
 is best remembered for his brilliant portrayal of Son Goku in the 1996 TV series 
Journey To The West
.  
Dicky Cheung in the 1996 TV series Journey to the West
When he was starting out though, he struggled for many years working as a low paid actor and singer. 
Dicky Cheung
 had a full head of hair when he first
 signed with TVB. He played supporting roles in some of the most classic Hong Kong movies and starred alongside the likes of Jacky Cheung, Aaron Kwok and Andy Lau. 
Dicky Cheung in the 1993 film Future Cops
However, it was only when Journey to The West came out in 1996 and 
Dicky Cheung
 played the titular Monkey King that his career catapulted to new heights of stardom.  Both his popularity and marketability rose dramatically.  Shockingly, it was also at this time that 
Dicky Cheung
 chose to leave TVB. 
Recently, Dicky Cheung opened up about his reason for leaving TVB.  He revealed that it was partly because of one of the producers at TVB. The producer in question happened to mention something that rubbed Dicky the wrong way. "You have no value without hair (implying that he can only play Monkey King)."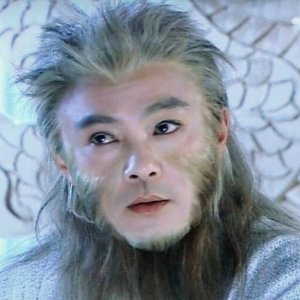 It turns out the producer wanted Dicky Cheung to play a part in an upcoming movie. Dicky recalled what happened at the time saying the producer had asked him to meet up in a local coffee shop to discuss the details. "The character does not need to be memorable. Some actors can do this for a cheaper price."  Dicky Cheung says, "It was really hurtful. It killed a young man who was trying so hard to make it." Dicky started to doubt his own value because of what the producer said.
Dicky Cheung however refused to name the producer, saying it was best to forgive and forget.  Because of what the producer said at the time, Dicky Cheung has opted to remain bald while proving himself with his acting skills. This month, he has come full circle as his new drama The Learning Curve of a Warlord airs on TVB.