From Zhao Ge to 
Story of Yanxi Palace
, Yu Zheng has been very supportive of Wu Jinyan's career as they've worked repeatedly with each other in numerous projects
. He recently shared a conversation between them that shows the actress's thought process and dedication to every role that she played. It is also revealed that she was once up for the leading role of Chu Yu in Untouchable Lovers. 
The translation of the post is below: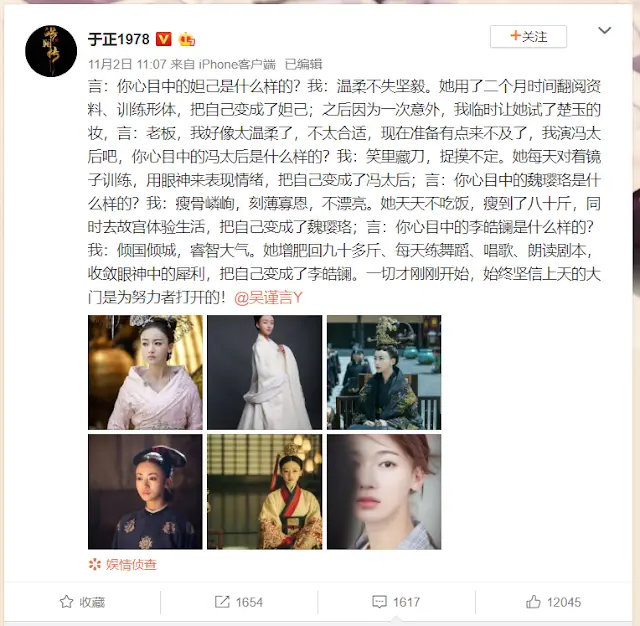 Wu Jinyan: What kind of a person is Da Ji (from Zhao Ge) for you?
Yu Zheng: Gentle but unwavering.
She used two months time researching the character and practicing her movements, making herself seem really like Da Ji. However, because of an incident, I asked her to switch to the role of Chu Yu (from
Untouchable Lovers
) at the last minute.
Wu Jinyan: I think I am too gentle to be her and there's not enough time to prepare now, I'll take on the role of Empress Feng instead. How is Empress Feng for you?
Yu Zheng: A schemer and hard to read. 
She practiced in front of the mirror everyday, trying to get the right emotions to turn herself into Empress Feng.
Yu Zheng: Gaunt and malnourished. Harsh and merciless. She's not beautiful at all.
After that, she didn't eat most of the time, losing wight until she only weighed 40kg. At the same time, she would go to the Forbidden City to understand what it was like to live there and to complete her transformation into Wei Yingluo.
Yu Zheng: Beautiful enough to cause the downfall of a country, but wise and generous.
She regained her weight back to 45kg and practiced dancing and singing everyday. She would read the script over and over again, softening the intensity in her eyes to appear gentler, and eventually turning into Li Haolan.
This is all just the beginning. I believe that windows of opportunities are always open for hardworking people like her.
Wu Jinyan has a new project You are My Answer, which recently wrapped filming. Even though she's already in her late 20's, she undoubtedly has a long career ahead of her.