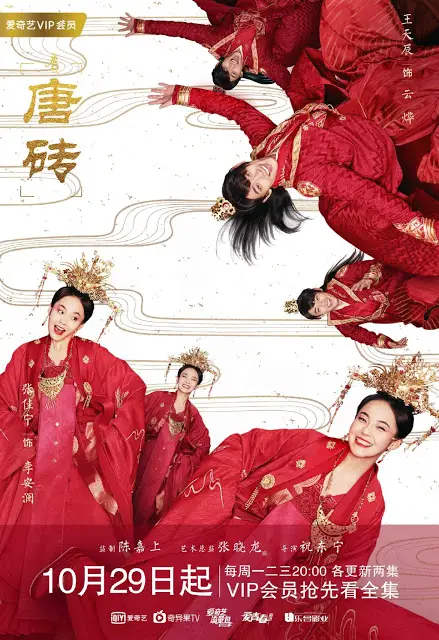 With a plot as overdone as time travel, I didn't really expect much from Tang Dynasty Tour 唐砖; surprisingly, the tropes though dated have been refreshingly entertaining. Trying to figure out the 
mystery identity of princess 
Li Anlan 
kept me intrigued until the very last moment.
Wang Tianchen as the main character is also quite funny. He seems to be a natural at playing the happy-go-lucky guy. 
An archeologist that can't keep out of trouble. Yun Buqi (Wang Tianchen) comes to work late again. Being the reckless free-spirited guy that he is, Yun Buqi
carelessly 
picks up an artefact in the restricted area. It causes the ancient tomb to start collapsing and he starts falling down a hole. His team grabs him, but the hairpin from his pocket falls out and he
loosens his grip to retrieve it. Where exactly did 
that hairpin come from that it's worth risking his life?
Back to the past. Alone underground, Yun Buqi finds that his hairpin easily fits into a switch. A light flashes and brings him back a hundred years ago to the same spot, surrounded by desert. Yun Buqi arrives at an inn where two men attempt to kill him. A girl warrior (Zhang Jianing) saves him but she knocks him out and takes his hairpin. People during that time sure are quite violent compared to today.
Assuming a new identity. Yun Buqi wakes up and hears from the housekeeper that he has been missing for a long time. The housekeeper also insists that Yun Buqi is Yun Ye. Yun Buqi looks down at his pendant and his eyes widen because the name written on it has indeed magically changed to Yun Ye. I'm guessing Yun Ye must be his ancestor.
New life, new people. In this era, people were not yet knowledgeable in salt refining. Yun Ye tries to befriend Li Anlan in order to get his hairpin 
back and as
 he offers her food sprinkled with refined salt he personally made, two generals barge through the door. Crown Prince Li Chengqian 
(
Wang Wenjie
) 
and General Cheng Chumo
 (
Liu Yufeng
) 
discover that Yun Ye knows how to refine salt and orders him to do so.
While Yun Ye is working, a general from the Qiang Tribe arrives hunting for a runaway soldier, which he claims is Yun Ye. Even on his first day as a Tang commoner, Yun Ye's definitely still a magnet for trouble. 
Hailed as a god. Li Chengqian gets stabbed trying to save Yun Ye from the Qiang Tribe. In return, Yun Ye tries to save Li Chengqian by suggesting a blood transfusion. Crucial time is spent checking blood types and arguing that royal blood cannot be tainted by a commoner. It is during this time that Li Anlan reveals herself to be a princess, therefore making her worthy to donate blood to Li Chengqian. 
Li Chengqian is saved through blood transfusion using Li Anlan's blood though 
he's really lucky to be alive with all the time they wasted.
The soldiers learn about Yun Ye's extraordinary abilities and start praising him as a god. 
The mysterious identity of Li Anlan. Cheng Chumo's father, General Cheng Yaojin (Cao Yang), sends a letter to the emperor that contains a drawing of a girl and the Chinese character "Lan." The emperor is shocked upon seeing this and quickly shows the empress. Maybe Anlan is their lost daughter?