When you wake up to find out you're in ancient China, what would you do? 
Well, at least our time-traveling male protagonist in
Tang Dynasty Tour
唐砖 did something commendable as introducing new ideas to Tang Dynasty citizens with his modern knowledge. 
The 36-episode drama is adapted from a novel of the same name written by ZiYu2. 
Wang Tianchen plays the role of Yun Ye, an archeologist who winds up in Tang Dynasty due to a sandstorm. Meanwhile, 
Zhang Jianing stars as his love interest, Li 
Anlan, a princess who looks like 
Yun Yue's girlfriend in the modern times.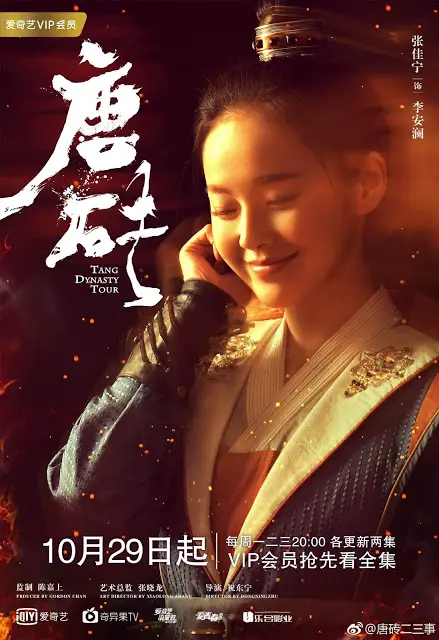 Wang Wenjie is cast as crown prince Li Chengqian, Yun Ye's close friend.
Other characters include 
Ken Chang as Li Shimin, Anita Yuen as Empress Zhang Sun,  Yu Ziyang as Li Xin Yue and Wang Yongquan as Huo Chanji. 
Synopsis from Chinesedrama.info:
After getting caught in a sandstorm while on an archeological expedition, Yun Ye is shocked to find that he has ended up in the Tang Dynasty. He makes use of his knowledge from the modern day to carve out a decent life for himself and slowly climbs the ranks as a court official. He becomes friends with the Crown Prince and also encounters an old love.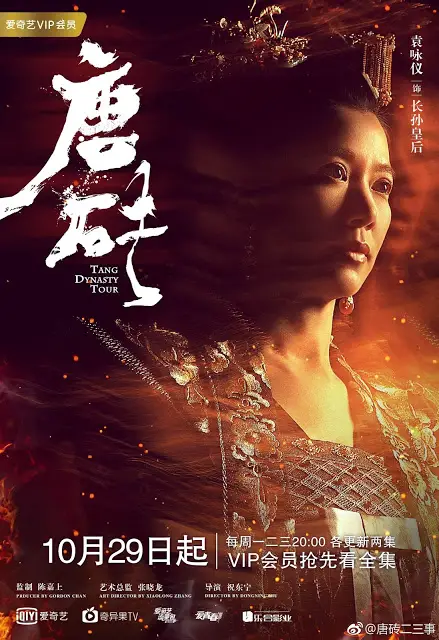 The web drama previously revealed a short teaser. While it tells us next to nothing about the story, it gives us an idea of how good the production is. To describe it in one word, it's gorgeous. The set was breathtaking and their costumes are beautiful. 
Nowadays, transmigration dramas and novels are a dime a dozen. However, 
Tang Dynasty Tour gives us a fresh view of a male transmigrator instead of the usual adorable transmigrated females paired with ancient OP males. It gives a 
comedic take of Yun Ye's troubles as he adjusts to the rules of ancient society and meets historical characters. Still the story is not all about laughter. 
The trailer reveals glimpses of emotionally heavy scenes including Yun Ye crying while covered in mud.
There is also that death flag above the crown prince 
Li Chengqian
head
. A short search of history reveals he was deposed from his position and died in his 20's. I am hopeful that Yun Ye can change history and help him, however, I still do not have a good feeling about the crown prince's ending. There might be bigger consequences on trying to change history to make the story more realistic.
Personally, I like transmigration stories with a more realistic approach like the novel, 
The Dreamer in the Spring Boudoir. In this novel, the female protagonist transmigrated as a villain in a novel she was reading. Still, knowing the future does not mean she instantly becomes a winner in life. Some of her actions led to drastic consequences like the annihilation of her whole clan. 

Release Date: October 29, 2018 iQiYi (two episodes every Monday-Wednesday), entire series available for VIP members