Horrific and disturbing, OCN's latest drama delves into the dark depths of possessive demons and the occult world. 
A superior spirit from the Eastern sea is rumoured to possess humans, its first victim named Park Il Do. As a result, people have called it Park Il Do for centuries and give offerings to the demon in order to keep it at bay. 
On the night of the ritual, a man from a small town becomes possessed but the demon takes interest in Yoon Hwa-Pyung, a boy who can see spirits and born into a shaman clan. 
Yoon Hwa-Pyung
(Kim Dong-Wook)
uses his psychic abilities to hunt for people possessed by Park Il Do twenty years later and receives assistance from an exorcising Priest named Mateo
(Kim Jae-Wook)
and Kang Gil-Young 
(Jung Eun-Chae) 
a Detective
 who doesn't believe in the supernatural. Each of them has their own personal vendetta against this supremely demonic spirit and together, they'll search for
Sohn (
The Guest) a term used by Hwa-Pyung's hometown to refer to people possessed by evil spirits, especially those haunted by Park Il Do.
Any more than that and I'd be giving too much away. This series really packed a punch with its premiere and I feel proud just being able to get through the first 2 episodes! Unlike The Ghost Detective which was genuinely scary with a decent plot progression, this one is genuinely horrifying, so much so that I hit mute several times for my own heart's sake. I give OCN credit, they're making The Ghost Detective feel like a walk in the park or Casper The Friendly Ghost in comparison to The Guest. 
Horror fans are finally going to get what they've longed for because this show is all about the occult, set as a dark, gritty, and oppressive thriller. And this combination of characters isn't common for K-dramas, so we're presented with something we'd normally find in a wild novel or the characters of a horror manga or anime. In this regard, the content is new and bold. 
Because I was thoroughly terrified at almost every moment, my focus was purely on the scenes meant to capture the audience's attention by means of possessive and abnormal behaviour and the blood lust and murders that follow as a result. That being the case, the premiere was decent, the pacing being fast but still containing moments where it slows down to formulate a more solid storyline and to garner more emotions and make you feel true terror even more, all the while grasping and understanding our main characters. 
The script and plot are both highly intriguing as it correlates with Chinese folklore about a water ghost or demon and is influenced by The Exorcist. It also combines traditional folklore and mythology with Catholicism, the exorcising practices and beliefs about demons stemming from a Christian perspective. 
The spirits refer to themselves as 'we' and even have names and this draws heavily from the Bible and makes me believe that the Writer has done their homework, paying attention to different religious beliefs on demons and spirits in order to deliver something new but not entirely unheard of. 
There are so many intriguing factors about the demon Park Il Do since the murders and possession occur when night falls and since it comes from the sea, the demon requires water and thirsts for it during its weakest moments. These aspects to the story really give it a movie vibe, further darkening the atmosphere of the show and questioning your sanity for thinking you'd be able to watch this in the dark.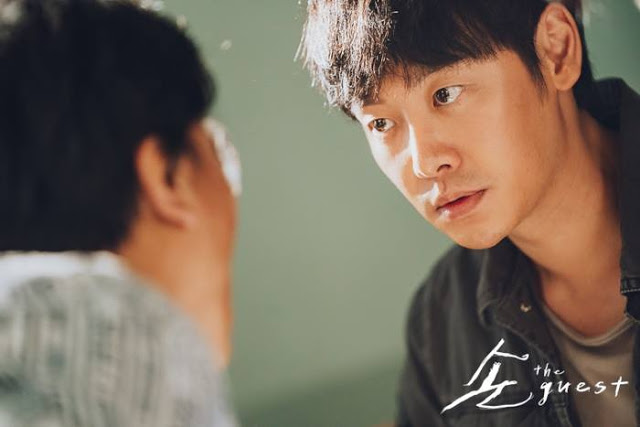 I can't leave out the phenomenal cast that have lived up to every bit of my expectations. After Return essentially lost its appeal, I'm glad to see Jung Eun-Chae back in a series where she's playing an entirely different role and letting everyone know just how versatile of an actress she is. Kim Dong-Wook and Kim Jae-Wook are both incredible here, making me invested into their characters of a brazen Psychic and a cold Priest.
I'd recommend this to people who aren't faint at heart and have a taste for horror but you can probably except more dark matter and layers of complexity as it comes from the Director of Voice and Black, and those were dramas that were thrilling and had an intoxicating effect that got me hooked. 
OCN is clearly exploring a genre niche that isn't usually represented in dramas which is surprising considering how terrifying Korean horror films can be (The Wailing, The Priests, etc,.) And they've created a series that is purely horror so say your prayers and watch this during the day, or else insomnia might be your friend for the next several weeks.
Release Date: September 12, 2018