There are two things trending about Deng Lun, and the whole thing's pretty funny. Jordan Chan recently started following @denglun on instagram. Assuming that it was his official account, Jordan Chan left a comment, "Jia you….. thinking of you." The thing is, Deng Lun doesn't have instagram so Jordan Chan basically followed the wrong guy. The innocent mistake has become a popular hashtag on weibo.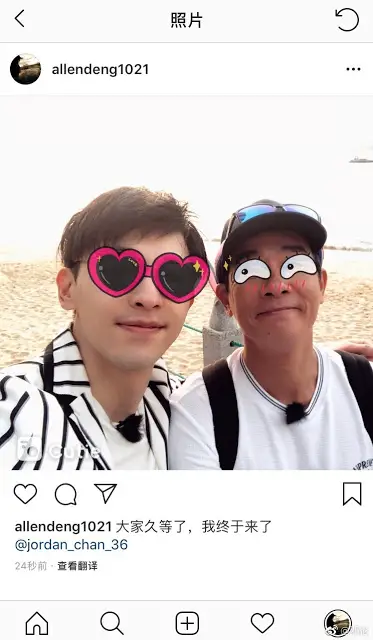 It seems that Deng Lun caught wind of what happened as he's just opened an instagram account today with the username @allendeng1021. He writes, "Have kept everyone waiting for too long, I am finally here. @jordan_chan_36."
He also cheekily sends a screenshot of it to Jordan Chan to say that it's for real this time. It seems random that these two are friends. One's a 51-year-old Hong Kong actor and singer while the other's a 25-year-old Chinese actor. It turns out that both were together in Where Are We Going, Dad? Season 5.