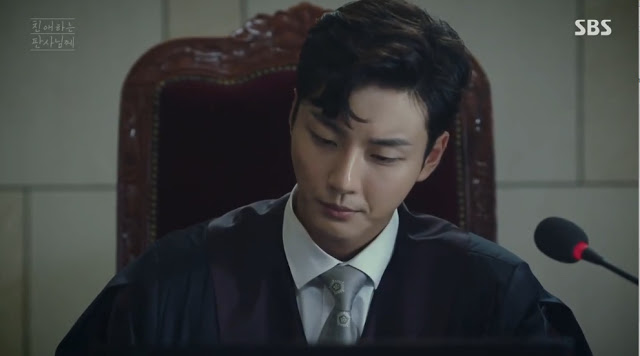 Your Honor
might just be
Yoon Shi Yoon
's most challenging role to date.
In this new legal drama, he
 p

lays dual roles of identical twins 

Han Soo Hoo (a well-respected judge) and Han Kang Ho (a troubled man who has been convicted several times). Despite being twins, they develop animosity towards each other at a very young age and live separately. They will however find themselves reconnecting with each other (and probably for the first time since they separated). Finally, towards the end of episode two, when Soo Hoo is mysteriously kidnapped, Kang Ho would assume Soo Hoo's identity as judge. 
The opening scene shows the contrasting lives of the twins: Soo Hoo entering the court confidently and coolly delivering his sentence at his hearing, while Kang Ho on the other hand, is trying hard to run away from the police but is eventually caught and arrested. 
At the National Forensic Service, Prosecutor Hong Jung Soo (played by Heo Sung Tae from Tunnel) is impressed by judicial trainee Song So Eun (played by Lee Yoo Young also from Tunnel). She is the only one amongst all the trainees who doesn't throw up 
while the medical examiner shows how an autopsy is done. Prosecutor Jung Soo also seems to be very attracted to So Eun. 
Later on, he approaches her inside the women's restroom (!) to congratulate her. On his way out, he touches her ear inappropriately. Shocked, scared, and disgusted, So Eun washes her ear. Her forearm shows a big deep scar wound
—
a telltale sign 
that she may have had a difficult past.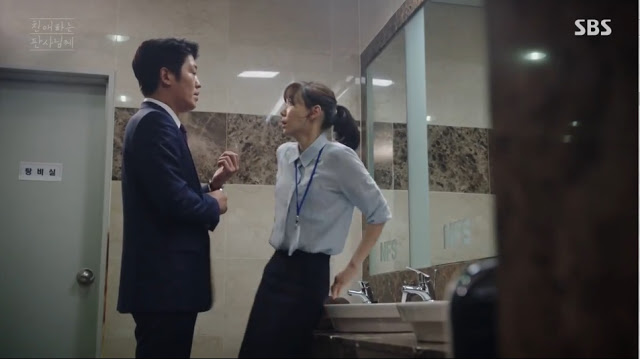 She asks her close friend Oh Sang Cheol (played by
Park Byung Eun
from
Because This is My First Life
) about Prosecutor Jung Soo. Sang Cheol tells her that she should stay in his circle since he has a lot of connections and is close to the Chief Prosecutor. (If only you knew!)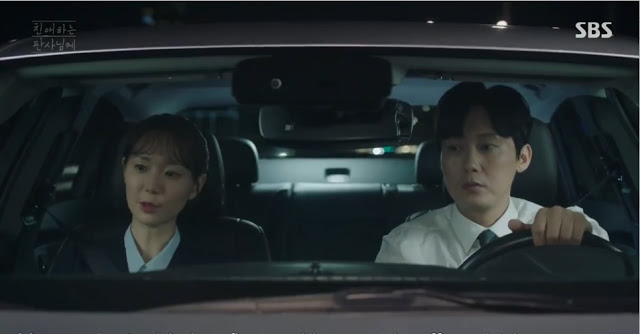 So Eun is reminded of things to watch out for when interrogating a suspect and gets forewarned to watch out for crying suspects 
— 
that she should not fall for t
hem easily. But as soon as she begins interrogating Kang Ho, he cries almost instantly and asks if he can call his mom. He then proceeds to narrate his sob story.
Back when he was little, he once questioned his mom (played by Kim Hye Ok from What's Wrong With Secretary Kim) why she hit him 10 times while his older brother (by two minutes) was only hit five times for fighting with each other. He accused his mom of hating him and threatened to get back at her for the way she's treating him. He started getting into frequent fights since he figured out that he could never beat his brother Soo Hoo who not only topped
 his exams but also had the highest scores in the whole country. Despite hating his brother, Kang Ho instinctively helped him out when he saw
Soo Hoo
 getting beaten up by his schoolmates and was about to get stabbed. 
The guy (the knife-owner) ended up getting stabbed instead while fighting with Kang Ho. Soo Hoo however refused to take Kang Ho's side and ev
en worse, their mother told the police officers that her older son never lies. Kang Ho as a result was the one who got convicted. Kang Ho would later get into more legal troubles and go in and out of jail. However, he eventually grew tired of seeing his mom in pain so he decided to stop living recklessly and study instead. He pleads with 
So Eun
(now teary eyed), that he really didn't know that he was doing anything illegal.
Prosecutor Jung Soo 
praises So Eun for her good work in questioning Kang Ho but tells her to go after Jin Wook Tae (who was also arrested along with Kang Ho) since he is the leader of the group and the mastermind of the crime. Jung Soo invites So Eun for drinks after her interrogation of Wook Tae. Before leaving, he touches her inappropriately (again). Only this time, on her behind. Oh no, So Eun, please don't go with him alone!
Once inside, they are led to a private room. 
Prosecutor 
Jung Soo
keeps on serving So Eun alcohol even when she tells him that she doesn't drink that much. As if it's not that uncomfortable enough, Prosecutor Jung Soo (now sitting beside her) tells her that he can help her become a prosecutor as the one to write evaluations after their training. He then asks her if she wants to sleep with him. So Eun struggles to get free from his grip and once she's escaped, she grabs her phone, puts the recorder on and demands that he repeat what he just said. But of course he denies it and tells her (while recording), that he will write her a good evaluation and that she should become good prosecutor. 
However, since So Eun's a bit drunk, Jung Soo recommends that she should just go home. 
So Eun bumps into Soo Hoo 
who was with Sang Cheol and his dad, on her way out. Sang Cheol looks concerned upon seeing So Eun.
On their way to their jail rooms, Wook Tae warns Kang Ho that since he let Wook Tae take the fall alone, Kang Ho will get his payback once they are released. Kang Ho just scoffs at the thought. Once inside his jail room, Kang Ho recognizes one of the inmates, Sa Ma Ryong (played by Sung Dong IL from Prison Playbook). Mistakenly thinking that he would be welcomed warmly, Kang Ho is beaten up by Ma Ryong's guys instead. Later on, Kang Ho would help Ma Ryong with his letter of appeal to the judge.
Back in his apartment,
Soo Hoo
is taking out the food containers that his mom brought for him. He becomes frustrated when his whole fridge full of his mom's packed food has no space for new ones. From afar, a mysterious man is watching his every move.
The next day, So Eun complains to the Chief Prosecutor about Prosecutor Jung Soo. But instead of taking her side, the Chief Prosecutor tells her that Prosecutor Jung Soo was only complimenting her good looks so much so that he wanted to sleep with her. He then glances at So Eun and adds that even he will also sleep with her. (What a scumbag!) 
So Eun tries to argue that
Prosecutor Jung Soo's actions are a form of 
sexual harassment and that his comments (
Chief Prosecutor's)
 are inappropriate too
. The Chief is clearly on Prosecutor Jung Soo's side in the matter leaving So Eun to feel trapped as she ends up apologizing to the Chief. Prosecutor Jung Soo later on gives So Eun busywork like filing papers instead of involving her in actual legal work. Clearly unaffected by her complaints, he touches her ear again before leaving. Thankfully, she is transferred later on to work with Sang Cheol as his supervising attorney as part of her judicial training.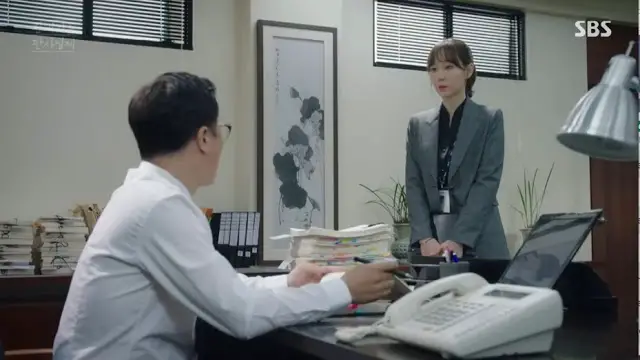 Kang Ho who is released from jail is reluctantly reunited with his mom. 
While having dinner, 
Kang Ho
's mom reminds him to visit his dad's grave and to talk to his brother more. They are interrupted by 
Tae Wook who informs
Kang Ho
 that he reported his injury to the police (the two had a fight earlier) and cops are on their way over to arrest him. 
Tae Wook reminds Kang Ho of the threat earlier about getting payback. 
Just before 
Kang Ho 
escapes, his mother pleads with him not to involve his brother into the mess since it could potentially ruin his future. Triggered, Kang Ho angrily declares that he will definitely go to his brother since he is the head of the family. Her mom is left distraught.
Soo Ho
while on his desk, is looking at photos with (presumably) his ex girlfriend. On his desk, there is a resignation letter (maybe his!). The girl on the photo is the news anchor,
Joo Eun
(played by
Nara
from
My Ahjussi
and member of
Hello Venus
girl group)
. Elsewhere, 
Joo Eun
 is also looking at the same photo but decides to delete it.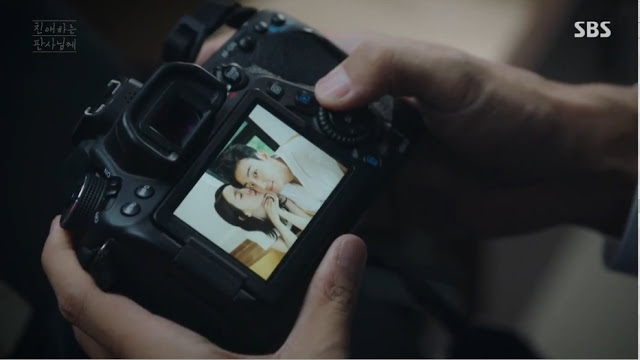 Later on, while taking out the trash, Soo Ho is kidnapped by the mysterious man who was stalking him from afar! Sorry
Joo Eun
, he can't take your call right now.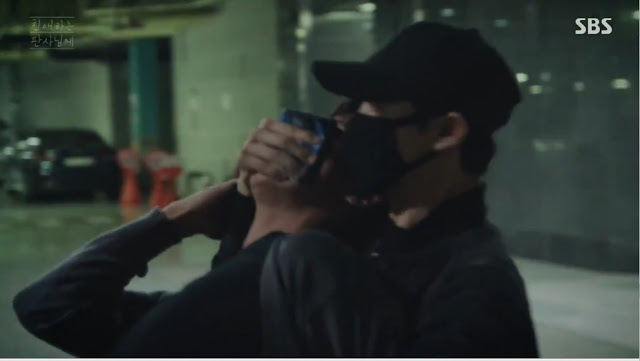 In the meantime,
Kang Ho
is angrily marching to his brother's place. He is able to get inside by entering their birthdate as the passcode. He stays for a while and chances upon his brother's work id and cellphone with 22 missed calls. He is about to leave when he spots the police going after him. He is ready to surrend
er when an assistant from the court arrives to pick
up 
Soo Hoo
(or in this case
Kang Ho)
who's already late for the trial and was not answering the phone. 
Seeing this as an opportunity,
Kang Ho
decides to play along by pretending to be his brother. When they arrived at 
Soo Hoo
's office, he panics when he is introduced to
So Eun
 (who is now assigned to be
his trainee). Afraid that she might recognize him, he attempts to escape but it is too late. The hearing is about to start! The episode ends with him entering the court and leading the hearing.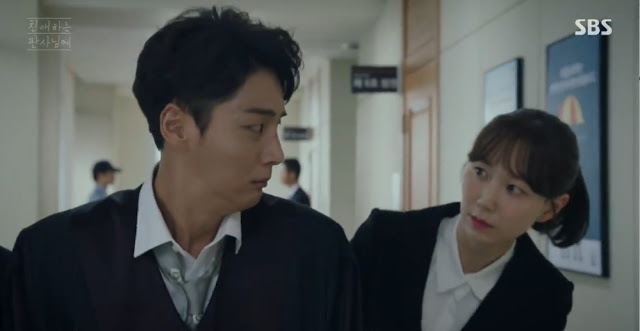 Comments:
This legal drama is off to a good start with great acting by the lead actors with an equally good supporting cast. What makes this more interesting are the sub plots in the main plot so there is a lot going on for a 30 minute episode. You will definitely be glued to your seat!